MirrorGo Review: Easy Way to Screen Mirror iPhone to PC
G
etting the most out of your iPhone might get a little challenging, seeing that Apple has a lot of restrictions built in but what if you need to mirror your iPhone's screen to a larger display for better entertainment and gaming. Fortunately, Apple officially supports screen mirroring and screen mirroring tools helps you by making the entire process seamless and easy.
Today we'll be looking at one such screen mirroring tool and how it can help you manage your iPhone's display on your PC's screen. It can also be beneficial for many more things and let us dive straight into how you can use the tool for better managing your iPhone.
Do you need a screen mirroring tool?
Before diving straight into the world of screen mirroring your iPhone's display, let's take a look if you really need a screen mirroring tool. These are the cases that you should take a look at if you want to get into screen mirroring:
Case 1: If you need to play games or stream movies on a larger screen
Case 2: If you want to record your iPhone's screen directly on your PC
Case 3: If you need to have your iPhone easily accessible from a PC for easier management or need to display presentations on the big screen.
Case 4: If you have a screen damaged iPhone and need a screen mirroring app to get it working without replacing the screen
So, if any of the cases match with you, then you need a screen mirroring tool. However, if that's not the case, we would advise you to consider all your options and make sure if you do, in fact, need a screen mirroring tool as the cost can get expensive.
Now that you've decided that you do indeed need a screen mirroring tool, you might want to know which one we recommend. So, let's get straight into it. Our favorite is Wondershare MirrorGo, and it has all the latest and greatest features, and the overall experience of mirroring your iPhone is super simple and straightforward.
MirrorGo compatibility and pricing
MirrorGo is compatible with all iPhones running on iOS 9 or above, and it also supports Android phones running Android 5.0 or above. It has a free trial version, and it comes with a variety of packages, these are:
Monthly Subscription – $19.95 / month
Yearly Subscription – $3.33 / month
Quarterly Subscription – $9.98 / month
MirrorGo features
Mirroring the iPhone – This is the main feature of MirrorGo, and it allows you to mirror your iPhone's screen on your PC's display. This means that you can enjoy all your games and other media content on a larger display without any lag or latency issues.
Recording iPhone screen – You can also use the recording feature to capture your iPhone's screen and save it as a video, making it very useful for streamers and content creators to show their iPhones screen side by side with their main desktop/laptop screen.
Use Snippets and Transfer files seamlessly – MirrorGo also has a snippet feature that allows you to screenshot any image right from your iPhone's display, and it also allows you to transfer photos and videos straight from your iPhone to your PC through a wireless WiFi connection.
Controlling your iPhone through your PC – Finally, MirrorGo allows you to interact and manage your iPhone straight off your PC. This feature uses your mouse to interact with your iPhone's display and a keyboard to type in anything you want. However, to get this started, you need to configure a few things on your iPhone.

Note: You have to enable MirrorGo as a Screen Mirroring source and then dive down in the "Assistive Touch" settings and enable it to allow mouse control. You can follow the screenshot above to get a better idea of how you can do so.
How to use MirrorGo
Getting started with Wondershare MirrorGo is easy. All you need to free download the app from the official site and follow the process below: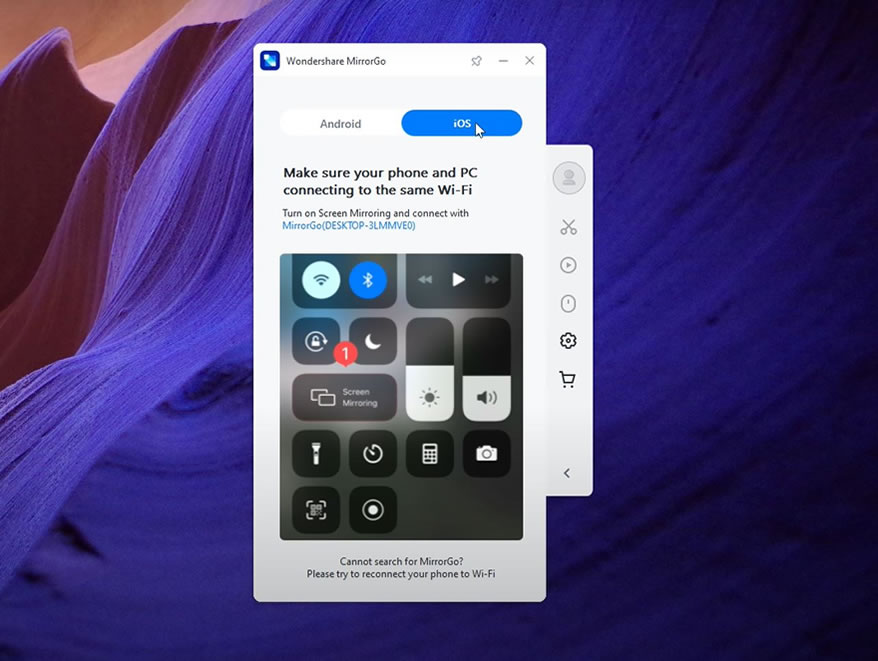 Step 1: After successfully downloading and installing MirrorGo on your PC, you would be greeted with a screen like this shown in the screenshot above. Click on the iOS tab and follow the on-screen process on your iPhone. Click on the "Screen Mirroring" button on your iPhone and select your PC.
Step 2: After you have selected your PC or any other device, you should have a screen started mirroring on your PC's display, and you'll see something similar to the screenshot above.
Step 3: The screen mirroring process has started, and if you just want to watch movies or play games on the big screen, you can do that here. However, if you're going to go further beyond, you can also record your screen.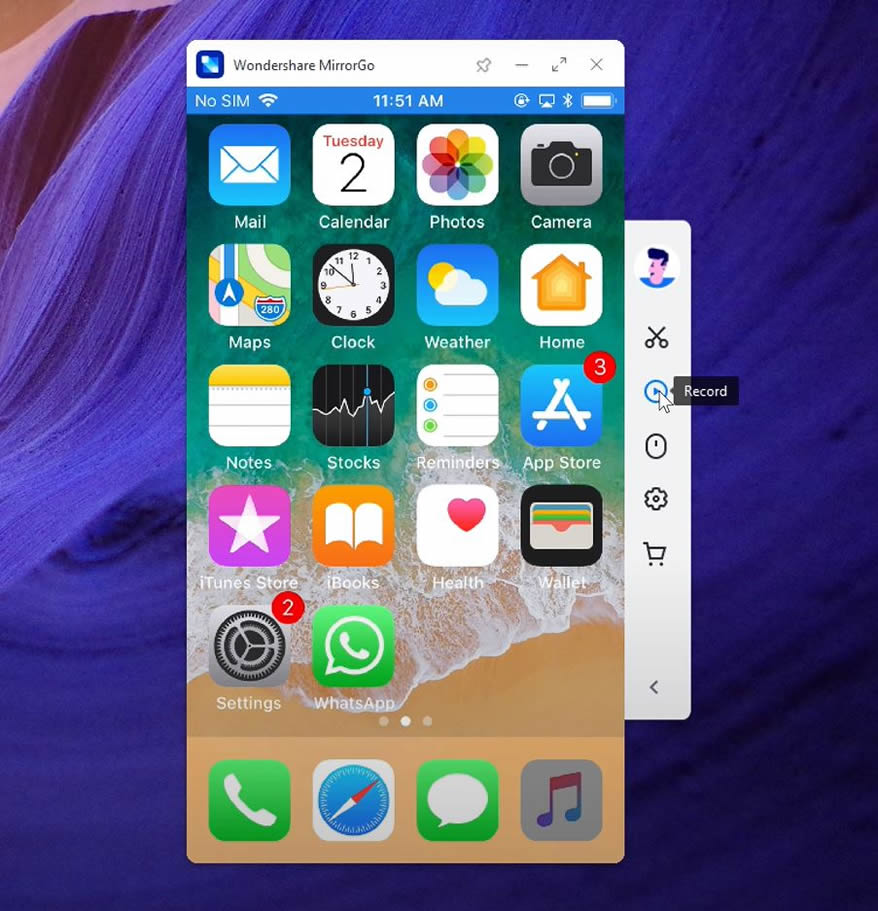 Step 4: To start recording your iPhone's screen, click on the "Record" button as shown above, and it will start recording. Now you can do anything on the iPhone's screen, and it will be recorded on your PC.
Step 5: After completing the recording, click on the "Record" button once more, and it will stop the recording. You will also be shown a saved file on the bottom left, and you can directly view it on your PC or your iPhone.
Pros and cons of using MirrorGo
Pros
Easy to use and mirror your iPhone's display
It is compatible with a lot of older iPhones and Android phones as well
Can allow you to record your iPhone's display
It has an intuitive snippet feature for screenshots
It helps you manage your iPhone straight through your PC's display
Cons
A slow WiFi connection will make the entire experience choppy and will have latency issues
The pricing can get a little on the expensive side
MirrorGo alternatives
So, if MirrorGo isn't working out for you or if you need similar options to MirrorGo, then here are our recommendations for some of the best alternatives for MirrorGo:
AirServer – This screen mirroring application is specially made for Mac and iPhone users. It plays as a real-time receiver to most of the streaming platforms such as Google's Chromecast, MiraCast, iPhone or iPad and all Android devices. However, unlike the other tools on the list, AirServer does not include any extra features that make it shine.
LetsView – LetsView is another third-party screen mirroring software supporting screencasting from most iPhones, iPads and other Android devices. It provides a wireless mirroring platform that automatically syncs audio and manages all your iPhone controls straight from your PC, making it one of the best and seamless screen mirroring applications on the market.
Reflector 4 – This screen mirroring application basically mixes all the others, making a complex and feature-rich mirroring service. However, with all these features, it becomes necessary to learn the crooks and crannies of the app, making it less beginner-friendly than the others.
AirParrot 3 – Finally, AirParrot 3 is another alternative that you can use, but it falls short on the features it delivers. However, it does have a high quality mirroring option that allows you to mirror and save recordings in FULL HD. So, if that's something you need, you can get AirParrot 3 as your primary screen mirroring application.
Apower Mirror – Apower Mirror is the best alternative to MirrorGo that we found, and it boasts nearly the same features that MirrorGo comes with. It makes streaming easy and useful, and if you want a lightweight tool that primarily focuses on mirroring your iPhone, then Apower Mirror is the way to go.
FAQs
Is Wondershare MirrorGo Safe to Use?
Yes, Wondershare MirrorGo is entirely safe to use and is lightweight on your storage and performance. We tested all the features of the app and had no problems with the stability of the connection, and the overall experience was wonderful. So, rest assured all your files would be safe, and you would easily be able to mirror your iPhone's display.
Can I transfer files over WiFi with MirrorGo?
Yes, you can also transfer files such as videos and photos over WiFi with MirrorGo. However, you would need to subscribe to the premium package to get access to the file transfer feature. This will allow you to drag and drop files seamlessly from your iPhone to your desktop.
Can I use my keyboard to play games with MirrorGo?
Yes, the latest MirrorGo build comes with keyboard and mouse support, and it also allows you to customize and hot-swap keyboard keys for your iPhone. However, you may face some bugs and would need to map the keys to the specific part of the screen yourself.
* Readers like you help support TheSweetBits. When you buy something through the links in this article, we may get a small commission at no extra charge to you.