ABBYY FineReader 16 Review – PDF Editor at Its Finest
If you or your business has to deal with large PDF files on a daily basis, you need a powerful and feature-rich PDF editor and OCR tool. One such tool is the ABBYY FineReader 16. It is loaded with in-depth features for editing, organizing, and comparing PDF files and works great for individual and organizational work processes.
Many tools let you edit PDFs and do Optical Character Reading (OCR), such as Adobe Acrobat, NitroPro, Kofax OmniPage, and ReadIris. Unfortunately, not all of these tools work the same way or offer all features. What makes ABBYY FineReader 16 great is its speed, clean interface, and accuracy, and we're here to discuss just that.
Introduction
ABBYY FineReader 16 is the latest version of the ABBYY FineReader tool, which has been in the market for a long time and has garnered a reputation for being a reliable and accurate tool for editing PDF documents and OCR.
To review this tool, we will use a very ordinary system with Windows 10 as the operating system, 8 GB of RAM, and an i5 processor. The reason for choosing this device is to see if the tool can run smoothly without high-end hardware, which many businesses do not use.
Pricing
ABBYY FineReader 16 is available for both Windows and Mac OS and is priced separately. This tool is also available for individual and business use which are also priced separately.
FineReader PDF Standard for Windows – 99 euro/yr
FineReader PDF Corporate for Windows – 165 euro/yr
FineReader PDF for Mac – 69 euro/yr
Custom prices are also available for businesses who want to deploy this tool organization-wide on multiple workstations. If you are one of the large businesses that want to deploy this tool, we suggest you talk to their sales team to customize the pricing according to your need.
Features overview
ABBYY FineReader 16 contains key features to help you edit, convert, organize and create PDF files.
Scan documents with a mobile device and send them to your computer.
Edit, view, organize, and navigate PDFs.
Reuse and retrieve information from PDFs.
Split PDF files to separate information.
Fill out PDF forms.
Convert PDFs to word, excel, and other formats.
Sign the PDF digitally.
Comment and discuss.
Markup and annotate PDF files.
Redact critical and sensitive information such as Social Security Number.
Set up password protection for PDF documents.
Merge documents.
Create and design PDF forms as per need.
Compare documents
Edit PDF forms
Share the comparison results directly.
And much more
Tests & findings
As you can see above, the program includes a long list of features from viewing PDF to editing your documents. We tested most of its features to see how it performs. Due to the technical nature of the software, it's unlikely that we could prepare all scenarios for the purpose of testing.
Download and installation
Downloading and installing the ABBYY FineReader 16 in this computer system was not difficult. The ABBYY FineReader website has both Individual and Business trial links. Simply download the trial version and try it for seven days before going for a full version. This will give you a chance to see if this tool is good for your use or not.
After downloading the installation file, which is quite large (726 MB), it took another 5 minutes to fully complete the installation on this computer. This can be improved with faster and high-end computer use.
However, after installation, the tool never lagged or crashed until the review was completed. So, we are confident that this tool can work smoothly once installed and set up properly.
Large organizations will now be able to deploy the tool more easily than before. Also, more scenarios for viewing the documents in a group with concurrent licenses are added.
Interface and first impression
Once the installation was completed and the tool's home screen was open, we were surprised at how simple the interface was. This new version of ABBYY FineReader comes with a new interface and a familiar "ribbon" style toolbar that is clean and easily navigable. It is certain that a new user will not get lost when using this tool for the first time.
The home screen comprises 5 tabs, i.e., Open, Scan, Compare, Recent and Mobile Application. The open tab can be used to open PDF files and the OCR editor and also convert the PDF files to other formats.
The Scan tab can be used to scan PDF documents and open them on the OCR editor for more in-depth editing. Image files can also be scanned and opened in the OCR editor to create PDF files from the texts and data.
The compare tab can be used to compare two identical documents and see the difference between them. You can only compare two files at once. The Recent tab will show all the recent PDF files you have worked on. You can also open files from here directly.
The Mobile Application tab will let you set up and use the files scanned from your mobile device. It is a very handy feature that not all other tools have.
Besides this, ABBYY FineReader 16 has 5 tools under it, i.e., ABBYY Screenshot Reader, ABBYY FineReader, ABBYY OCR Editor, ABBYY Hot Folder, and ABBYY Compare Documents. All these tools can be accessed through the home screen of the app or can be accessed separately.
Editing PDFs
Editing any PDF document with FineReader 16 is very convenient and easy. Simply open a PDF document from your computer and start to edit it. The editing interface is also very clean to navigate all the tools needed for editing.
Like any good PDF editor, you have the ability to organize the pages, edit the contents of the pages, set up security such as passwords and watermarks, redact any confidential information from the contents and delete objects and data. You can also use the search tab on the left sidebar to search for any specific texts from the page you are editing.
The editor also has a Form Editor, which can be used to edit, fill and insert forms on your documents. After the editing is complete, you can export the document in any format you want by clicking the Save icon from the top bar.
OCR editor
The OCR feature of ABBYY FineReader 16 is one of the best and most accurate in the market. No other tool comes close to the OCR editor of FineReader. You can simply open your PDF document or an image file with the OCR editor, and the interface will open.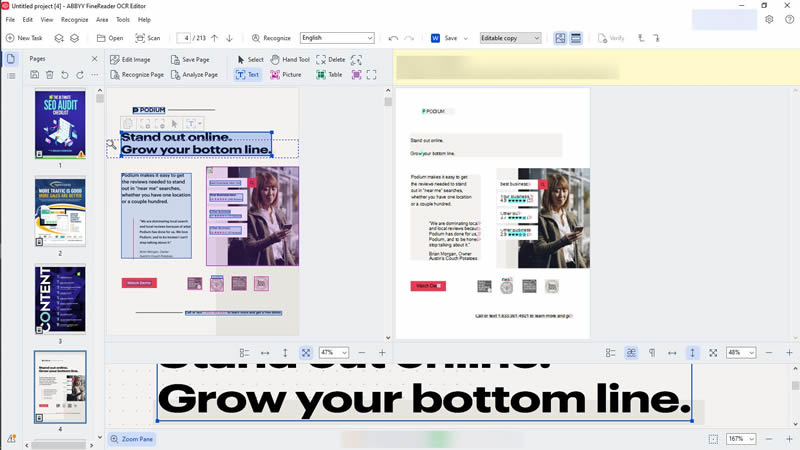 The editor will start the OCR of the document while also displaying the file on the window. If your file is too big, like ours was in this review, it will take some time for the OCR technology to complete and let you start editing the document.
The OCR editor interface is also very spotless, with the thumbnails of all the pages shown on the left pane. The Main window has three parts, i.e., the full image of the page you are working on at the moment, the text that the OCR editor picked up from the page, and on the bottom, a close-up of the page full size on the bottom.
You can unselect any part of the page that you do not want to retain on the OCR. Also, if there is any error in recognizing any part of the page, you can edit it. For the most part, our sample document, when reviewed, did not have any mistakes. It, however, did not retain the full resolution of images used on the page. This was fixed after we set the resolution to 1000 in the image editor of OCR.
The image editor is also a very useful tool that lets you edit the images by deskewing, cropping, rotating, increasing the resolution, etc. Another great feature of this OCR tool is the verification of retention, where the tool will let you verify any section of the page that is not certain that it is retained correctly. You can verify these manually, which will significantly decrease any chance of mistakes while retaining data.
This version of FineReader comes with a significant boost to the speed of doing things. You can open PDF files approx. 32% faster and also search through the document at double the speed. This lets you speed up the editing process and complete any task faster.
The OCR has also become faster with automatic pre-processing of the images on the file with a suitable combination of settings and also increased accuracy while converting a document.
RELATED: Best OCR Apps for Mac and Windows
Converting PDFs
Converting files is often a messy process where the loss of data is often occurring. But having a reliable tool to convert files from one format to another is great. ABBYY FineReader 16 is also equipped with a file conversion tool that can be used to convert PDF files to other formats such as word files, excel files, and other popular formats.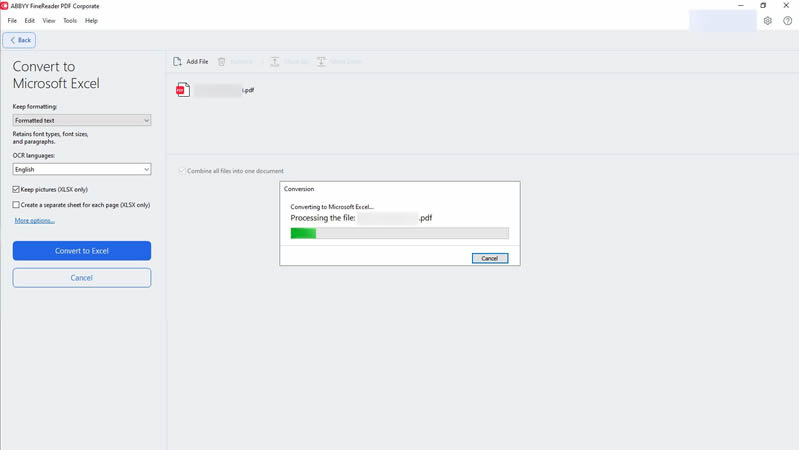 We used a sample spreadsheet file and converted it to PDF first to test if the FineReader 16 could convert the file to its original version without losing any data.
Converting PDF files to other formats was also very easy. From the home screen, on the Open tab, we simply selected the PDF file that was a Google Sheet document earlier and again converted it to an Excel sheet. The conversion was fast, and the accuracy was 100%.
We again tried to convert a PDF file to a word document which was also as good as expected and did not lose any information. Overall the conversion was satisfactory for us.
Document comparisons
Comparing documents after any changes are made is necessary in many cases. Especially if you are a large business and work with PDFs all the time, many documents need to be changed and edited all the time. This will make it hard for anyone to track all the changes in every iteration of the document. This is where text comparison tools come in handy.
ABBYY FineReader 16 has its own compare tool, which is very accurate and reliable. We tested some of our documents with this tool to see if it could recognize the changes. We tried using the same document on both sides to compare, which it correctly recognized with 'No difference found'.
Again we made some changes to the second document and compared the two documents. This time too, the tool recognized all the changes made accurately.
This tool not only lets you compare the same format files like most other text compare tools, but it also lets you compare two different versions in different formats. This is particularly useful when you are converting other formats to PDF and have to compare the converted file with the original one.
Final Thoughts
This review of ABBYY FineReader 16 was almost as we expected. This tool is known to be one of the best in the market for individuals and organizations to work on PDF files. The reputation it had and the impression it had on us remained intact. All the features this tool boasts work best.
However, the processing time for documents was quite slow. We are sure it has to do with the machine we chose to use in reviewing this tool, and if it had been better hardware, it would have worked smoothly.
Read also:
* Readers like you help support TheSweetBits. When you buy something through the links in this article, we may get a small commission at no extra charge to you.