MacOS Optimized Storage: The Whats and The Hows
Storage and Macs are a strange affair. The newer Macs come with flash storage that has a limited capacity, so if you have many files stacked up on your drive, you may notice some slowdowns that could affect the performance of your Mac.
However, that should not be the case as one of the points of using a Mac is getting access to the fast and sleek performance that enhances productivity.
But don't worry — there's a workaround! What if you could transfer your files and data on the iCloud? That way, you can free up space on your Mac and improve its performance.
The Optimized Storage feature on the macOS lets you do just that.
RELATED: How to Fix Slow Mac After macOS Ventura Update
What is optimized storage?
The Optimized Storage feature on the macOS lets you change your storage settings to store your data in the cloud whenever the need arises. You can save photos, files, email attachments, movies, and other content to the iCloud to save up more space on your Mac.
Alternatively, it lets you view the installed applications on your Mac so that you can view them in the finder or delete them.
It also provides individual storage categories so that you can see which section is taking up the most space on your Mac.
Here, we will look at the what and the hows of the Mac Storage to understand this feature better and how you can make the most out of it.
How to access Optimized Storage
You can access the Optimized Storage feature — also known as Storage Management — by following the steps mentioned below:
Click on the Apple icon at the top-left of your menu bar.
Click on the About This Mac option
Click on the Storage tab
Click on Manage
Once you follow these steps, you will get access to the Storage Management feature. Now that you are here, let's see how you can use it.
How to use Optimized Storage to make more space
The Optimized Storage feature on Mac is pretty simple to you. Once you open the app, you will notice a left panel where the first tab is that of recommendations.
It will recommend you a few options to optimize your storage — Store in iCloud, Optimise Storage for Apple TV, Empty Bin Automatically, and Reduce clutter.
Here, you can play around with these features so that your Mac knows what to do with the individual components on your storage.
The Store in iCloud lets you store all files, photos, and messages in iCloud and save space by keeping only recent files and optimized photos on your Mac when storage is needed.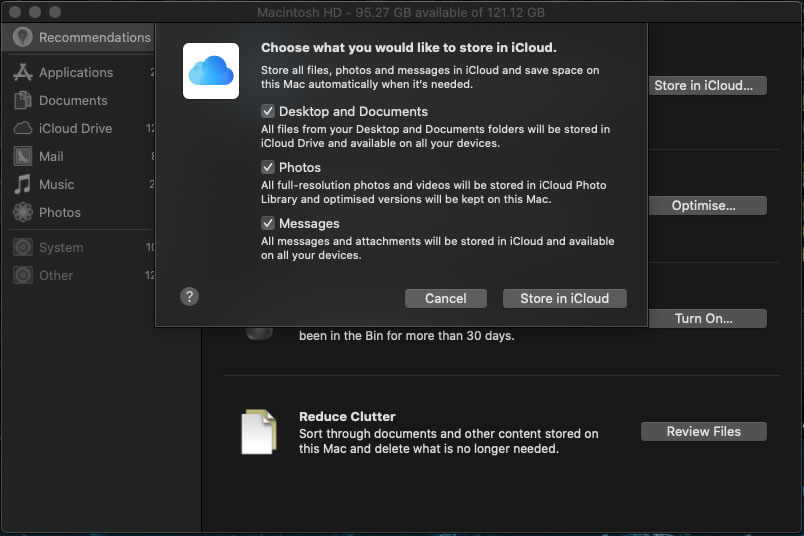 The Optimize Storage for Apple TV lets you save space by automatically removing TV programmes and films that you've already watched from your space. Yes, everything here is automated!
Are you tired of emptying your Bin again and again? You can Turn On the Empty Bin Automatically feature to teach your Mac to save space automatically by erasing items that have been in your Bin for more than 30 days. The 30-day period makes sure that you do not permanently delete the files that you might need.
Now, if you are a document freak — someone who works a lot with email and documents and has them cluttered all over the macOS, then Reduce Clutter feature could be the tool for you. The Reduce Clutter feature lets you sort through your documents and other content stored on your Mac so that you can delete the files and documents that are no longer needed.
Now, if you want to check out how individual components on your Mac, such as Documents, Mail, Music, and Photos affect your Mac, then you can do so by clicking on them in the left pane. There, you can review the files, optimize them to be stored in the iCloud, and delete them if needed.
RELATED: How to Clear System Data Storage on Mac
Downsides of Optimized Storage
Well, the Optimized Storage does come with a lot of features that let you free space on your Mac — something that should have been introduced long ago as Mac users generally tend to struggle with freeing space on their Macs.
The solution which Apple offers looks quite decent and is laid out in a handy app, but it's not the perfect app for it. Let's find out why.
iCloud is not unlimited
Well, if you think that you can transfer all your woes to iCloud, then you must know that iCloud only offers you 5GB of free space. Of course, you can buy additional storage for a price which depends on your location. Although it might not be expensive, it does add up to your monthly bill.
An alternative might be using other clients such as Dropbox or Google Drive, but aren't we talking about seamless integration here?
No option for system junk and cache files
The Optimized Storage only lets you play around with your media, trash, and documents. What about all the system junk and cache that has been building up on your Mac over time. Well, there's no solution to that. Dayum!
An unsorted clutter
Even if you move your stuff to iCloud, it doesn't mean that you are individually sorting them out. You are just hiding stuff under your bed, or under the mat for that matter. It would've been great if Apple could provide an option to sort out files, pick what's needed, and then transfer them to the cloud.
There's always that dread to not use those transferred files ever again, and that way, they'd still be eating away your iCloud space. Even if you manage to clean your Mac, your iCloud would still lay cluttered — to become an unorganized mess.
Fixing Optimized Storage on Mac
Now that we have pointed out why Optimized Storage is not the perfect app you clean your Mac, let's look at a few ways through which you can fix the whole problem.
Clean before you transfer
You would want to visit these files on your storage to see if you actually need them. If you see that you can do without them, then you can go ahead and delete them. Later on, you could use Optimized Storage to transfer the important stuff to iCloud.
Turn off Optimized Storage
Another way to fix the problems with Optimized Storage for Mac is not to fix them. Yes, we are talking about getting rid of the app completely!
You can disable Optimized Storage on Mac and keep on managing your files as you've always had. Once you turn off this feature, you Mac will stop moving stuff to the cloud automatically so that you can do it yourself or get a third-party app (we will get on it later) to do so.
Follow these simple steps to disable Optimized Storage on your Mac:
Click on the Apple icon in the top-left of your menu bar
Click on System Preferences
Click on iCloud
Click on Options which is right next to iCloud drive
Here, click the box which says Optimize Mac Storage
Hit the Done button
Easy, right?
Well, remember that you can always enable Optimized Storage on your Mac it back by repeating the steps mentioned above.
Use a third-party app
The Optimized Storage might not be the perfect tool, but there are plenty of third-party apps out there that can help you clean your Mac.
We even made a list for that. Check out our list for the best Mac cleaner software so that you know before you install or buy.
To sum things up, our favourite pick of the lot has been CleanMyMac X. It has an intuitive and easy-to-use interface where you can search for junk, cache, and broken files in the system. You can even locate duplicate and similar files.
Yes, it has numerous features that can help clean you to get rid of junk.
Cleaning the junk is important
We cannot stress enough on how important it is to clear the clutter on your Mac. Having a well-organized Mac will can help you be more productive and can also improve the performance of your system manifolds.
So go ahead and use Optimized Storage to transfer your files to iCloud, or just use a third-party app to do the job. Whichever (or both) way you choose, at the end of it, the goal is to have a nice, clean, and well-organized Mac.
READ ALSO: