Best Affordable Mac PDF Editors Similar to Acrobat
Business • Updated on Oct. 10, 2023
Update, 10/10/23: a new version of PDF Expert is coming for macOS Sonoma. We've checked and updated this guide for accuracy.

PDF is a necessity in macOS. Without PDF, you can't easily create & share portable documents. In fact, almost every native macOS application lets you export content into PDF.
Preview in Mac is a great PDF viewer and annotator, but it's not enough for editing. Normally, people have to convert the PDF file to something else and edit it afterward. That isn't the most convenient option, either.
That is why a fully-fledged PDF editor for Mac makes sense! Fortunately, there is an impressive variety of PDF editing programs.
And, Adobe Acrobat Pro is most people's go-to option.
Adobe Acrobat Pro DC is great, but…
Adobe Acrobat Pro DC has been the standard for PDF editing for quite a long time. Considering that Adobe built the format, it's quite not surprising. Anyway, it's not a great reason to keep using Adobe Acrobat Pro DC as the macOS PDF editor.
The Good: Acrobat Pro DC is undoubtedly one of the most powerful PDF solutions out there. You can get the best results if you use other Adobe products. If you use Adobe Reader to view PDF documents, you can have the benefits of a familiar UI as well.
The Bad: Even then, Acrobat Pro DC does not offer the best User Interface in town. Sure, it gets the job done, but that's not enough. We cannot recommend Acrobat Pro DC when you want to edit multiple documents and manage everything with ease.
The Ugly: Acrobat Pro DC is damn expensive. It comes with a monthly subscription charge of $14.99. Adobe Pro 2017, an older, standalone version, is available for a hefty price tag of $449. These rates are way beyond what a normal user can afford.
We believe these reasons are enough for anyone to look for an Adobe Acrobat alternative — or one better PDF editor for Mac.
What makes a good Adobe acrobat alternative?
There are quite a few alternatives to Adobe Acrobat, and most of them do the job quite well. However, before we start exploring them, it would help to look at the criteria that help decide the best PDF editors on your Mac.
Simple user interface: The PDF Editor must have an easy-to-use UI. It must be non-distracting and functional. We always recommend a UI that works well with single-document and multi-document management, and a multi-tabbed design is great.
Easy & advanced PDF editing: Advanced editing tools are a must-have in a PDF editing tool. Automated selection recognition is great since it enables easy editing of other components like images, boxes, shapes, and signatures.
Pricing: One of the reasons we need an Acrobat alternative is the pricing aspect. Therefore, we have to find PDF editors that offer better value for money. It does not always mean paying less than Acrobat. Instead, we are looking for programs that offer a balance between their price and features.
Additional Features: The ideal PDF editor should have additional features as well. On top of the list are Optical Character Recognition, PDF security management, and Digital Signing. You may, indeed, go for a minimal editor, though.
Top Mac PDF editors to use as acrobat alternatives
We have covered the best PDF editors that can easily replace Adobe Acrobat Pro. We have also mentioned the specific purposes for which these apps are designed.
#1 PDF Expert: Best Overall For Mac/iPadOS
PDF Expert is one of the most popular PDF editors, available for Mac, iPad, and iPhone. It lets you annotate, edit, scan & OCR, and export PDF documents efficiently. With the latest update, PDF Expert has acquired plenty of advanced features, especially for macOS Sonoma. This comprehensive PDF editor is the best choice when you need a hassle-free PDF experience across macOS, iOS, and iPadOS.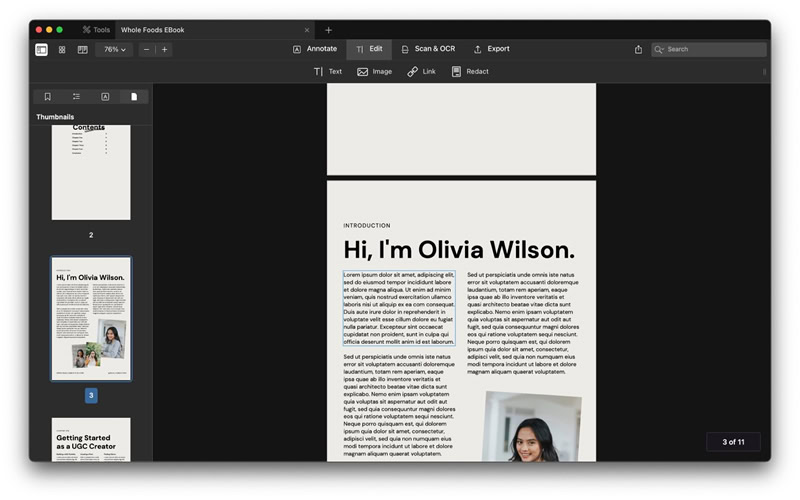 UI
PDF Expert has an intuitive User Interface design focused on productivity. The multi-tab design makes it easy to manage many PDF documents simultaneously. In addition, because there are four sections, you won't be bombarded with too many buttons or toolbars. Instead, you can conveniently shift between options to edit, annotate, OCR, or export.
Editing Options
The PDF editing tools in the PDF Expert package are sufficient for most people. In addition to standard annotation tools, you also get Stamp and Signature support. You can also use PDF Expert to remove and add different elements to a document. We tried editing multiple types of documents with PDF Expert, and the tool could manage everything easily.
Compatibility
PDF Expert is available for both macOS, iPadOS, and iOS. It also enables content sync between the devices. So, if you want to access documents you created using PDF Expert for macOS, you can easily do it from an iPhone or iPad. On iPad, you can expect more from PDF Expert thanks to native support for Apple Pencil. We also love the PDF Expert widgets on Mac and iPad.
Additional Features
We love the Smart Scan feature attached to the OCR module. You can open a scanned PDF, go to the OCR & Scan section, and scan the document. It does an impressive job of recognizing text and arranging everything. Then, Smart Enhance uses AI to make your scanned PDF look better. The quick options to compress PDFs and password-protect documents are also impressive.
Pricing
The multi-device bundle from PDF Expert is available for $79.99 annually, providing you with access to Mac, iPad, and iPhone. However, if you just want the Mac version, you can get a lifetime license for $139.99. PDF Expert offers a seven-day free trial as well.
PDF Expert vs. Adobe Acrobat Pro
In terms of features, pricing, and compatibility, PDF Expert is a more balanced package than Adobe Acrobat Pro. We also noticed that PDF Expert offers more options to create a PDF document from scratch. The best part is that PDF Expert works great natively on your Mac, even if you do not have other Adobe products. At the end of the day, this PDF editor does not take up a lot of system resources, either.
Read our full PDF Expert review.
#2 PDFelement: AI-Powered PDF Editor
It's time we normalize getting the best out of AI, and PDFelement brings the power of AI to PDF editing. The best part about PDFelement for Mac is that it is a great PDF editor even without the AI tools. You get a clean and powerful environment to deal with various PDF documents. You get all these features while paying half what you would for Adobe Acrobat.
UI
PDFelement for Mac has one of the most pleasant UI designs we have seen on a PDF editor, too. It looks so pretty, and you can easily manage multiple PDF documents without bothering about the clumsiness. The customizability of the UI is also impressive in that you get to choose what appears on the screen. Like PDF Expert, PDFelement also lets you toggle between different sets of tools.
Editing Options
Even when we exclude AI editing options, the editing capabilities of PDFelement are impressive. For instance, in the edit system, you can easily choose between different elements and modify them. And when you want to redact or encrypt the document, you have tools right under the specific table. Once again, the tool could handle almost every PDF document we threw at it.
Compatibility
PDFelement is also one of the most compatible PDF editor apps we have seen. The dedicated apps are available for Mac, Windows, iPhone, iPad and Android. You can also use the scanning app to bring the content straight to the PDF editor. Lastly, there is also an option to use these services from the cloud. But as you can guess, many of these cross-platform devices are only available on the premium plan.
Additional Features
We noticed that PDFelement comes with several tools, including AI-powered ones. For instance, you can OCR and watermark the content or add page numbers as you wish. There are also options to crop pages and arrange them as per the design. The AI tools include instant translation, proofreading, and an AI sidebar which makes document management easier.
Pricing
PDFelement comes with a couple of options when you need premium features. There is a yearly plan that sets you back at $79.99, or you can get the permanent version by paying $40 more. The premium plans offer AI features via ChatGPT as well.
PDFelement vs. Adobe Acrobat
Compared to Adobe Acrobat, PDFelement for Mac is a more intuitive and user-friendly option. You also get the benefits of Artificial Intelligence by paying almost half the price. Overall, it has what it takes to replace Adobe Acrobat on any day. You should also consider how feature-rich PDFelement is compared to the Adobe counterpart.
Read our full PDFelement review.
Nitro PDF Pro (formerly PDFpenPro from Smile Software) is one of the best PDF editing options available for macOS. So, if you need a PDF editor that can get the job done without compromising performance and usability, you should consider getting this instead of Adobe Acrobat. However, unlike the other products we have covered, Nitro PDF Pro is a rather expensive option, but you get certain benefits in terms of scalability.
UI
We cannot say that Nitro PDF Pro has the best or the most intuitive UI. However, it gets the job done when it comes to the essential editing, annotating and form-filling tasks. But when you want to set up things and scale the proportions of your work, the UI becomes a game-changer. It would have been nice to see a few more customization options, though.
Editing Options
While there are standard editing options, you might need some time to figure out how they work. On the other hand, it feels elementary to annotate or modify the PDF. There are additional options for drawing and filling form items within the PDF document as well. However, you get the upper hand when it comes to inserting new pages and adding DOC entries to the document.
Compatibility
Nitro PDF Pro for Mac is now managed by Nitro, which is an industry leader when it comes to PDF solutions. So you can make use of the products across different platforms without worrying about performance or major changes in the UI. Even if you want to go to the enterprise level, the e-signing and information management features from Nitro are impressive.
Additional Features
Compared to Adobe Acrobat and most of the alternatives, Nitro PDF Pro is a focused PDF editor. It translates to the tool having fewer additional features. However, you will be able to customize and use the features according to your needs. But you will have to choose them from one of the available subsections. You have advanced OCR capabilities, which are the best in the industry.
Pricing
As we said earlier, Nitro PDF Pro is an expensive option, and you will have to pay $140 to get your hands on this tool. There are options for subscriptions, but they are also expensive. On the bright side, you can have access to Nitro PDF Pro with a Setapp subscription, which you can get for just $10 a month.
Nitro PDF Pro vs. Adobe Acrobat
Even though both Nitro PDF Pro and Adobe Acrobat are equally expensive, Nitro PDF Pro offers a couple of options that you can't find on Adobe. For instance, advanced control over the OCR process and enterprise scalability are some things that you should look forward to. And it is great that you have options to access the tool through other subscriptions like Setapp, which is not the case with Adobe.
Read our full Nitro PDF review.
#4 pdfFiller: Web-based Acrobat Alternative
If you are looking for a performance-focused but convenient web-based alternative to Adobe Acrobat, you should check out pdfFiller. This platform comes with all the features you need to create and edit PDF documents, enable protection, and carry out tasks such as e-signatures. And you can explore all these features from the same interface.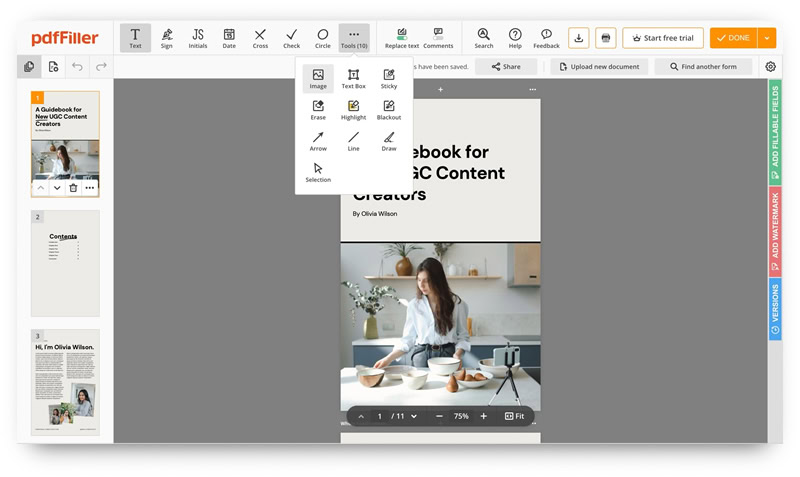 UI
As you can expect, pdfFiller has one of the best UIs we have seen on web-based PDF editors. When you get started, you can upload or import the PDF document before you start the editing process. For what it's worth, the web-based editor works as efficiently as you would expect a native editor to work. As long as you have a stable internet connection, you can expect the best performance too.
Editing Options
The editing options with pdfFiller are pretty straightforward and content-focused. As soon as you open the interface, you can select the element that you want to modify. For instance, when you select a picture, you have an option to move it to someplace else. On the other hand, through the simple shortcuts on the side, you can easily insert signatures, watermarks, and even fillable fields inside the document.
Compatibility
Perhaps the best thing about PDF filler is that you don't have to worry about which device you access it from. Even if you open it from a mobile device, you can expect a decent editing experience. For those who are on the fly, it means you don't have to install a native client on your device. And as we said earlier, an internet connection would ensure that everything is working super fine.
Additional Features
If you are willing to pay, the premium plans from pdfFiller offer many options that you can't find elsewhere. For instance, you get to create reusable templates and offer easier options for US legal forms. There are also options to collect and export data with little effort. The ability to set up advanced workflows and online FAQ support is also impressive when you think from an enterprise point of view.
Pricing
If you don't want to use the restrictive free plan, you can choose between three plans, which start from as low as $8 a month. Compared to Adobe Acrobat, it is a very inexpensive option, but the features that you get will depend on the price you are ready to pay.
pdfFiller vs. Adobe Acrobat
Even though Adobe Acrobat offers certain web-based features, they are not as efficient as the ones we have come across in pdfFiller. And compared to this difference in features, the price you pay for PDF filler is incredibly low. Therefore, it is a great alternative if you prefer managing PDF documents using a web-based interface.
#5 PDF Chef: for Beginners/Personal Use
Are you looking for a super simple PDF editor that is suitable for beginners? In that case, PDF Chef is a suitable option. You might have heard the name through its set of web-based tools, but the desktop version for Mac is a great option for most users with personal needs. You can avail all these benefits without worrying about the security of the PDF documents in question.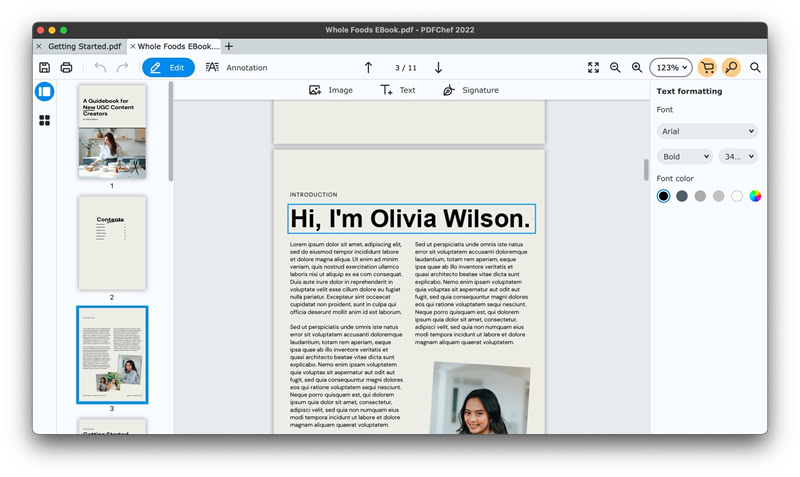 UI
The first thing you would notice about the user interface of PDF Chef is that it is a bare-bones structure. On the left side, you get a sidebar and there are options for editing the document. You can also choose between multiple viewing options and the zooming amount at your convenience. Once again you have a multi-tabbed design which is a great option for managing multiple documents.
Editing Options
Even though PDF Chef does not have a lot of editing options, the available options are pretty straightforward. You have a collection of buttons to insert images, text elements or a signature, and you can change each element through the sidebar that appears on the right. There is a separate menu for annotation as well if you would like to make changes on that side of the PDF.
Compatibility
PDF Chef could be the least compatibility-friendly option on this list. Currently, the desktop version is available only for Windows and macOS. And there is no way to sync between different devices. So that is an area where the simplicity of the tool becomes a problem for some people at least. But if multi-device syncing and a similar UI on mobile devices are not an issue, the compatibility aspect of PDF 2022 should be just fine.
Additional Features
Once again, PDF Chef does not have many additional features to talk about. But, if you are looking for specific features, you can check out the online version, which is known for its utility-oriented take. However, I would appreciate it if the developers could add at least a basic version of OCR. Currently, you need another tool if you want to deal with scanned PDFs.
Pricing
The pricing plans of PDF Chef are pretty straightforward. You can get the PDF Chef cloud plan by paying $35.99, and you get access to the macOS, iOS and web versions of the tools. However, if you want a lifetime license of just the macOS app, you can simply pay $45.99, and you get 1 GB of cloud storage for 6 months.
PDF Chef vs. Adobe Acrobat
It must be obvious that PDF Chef is not as feature-rich or advanced as Adobe Acrobat. But, on the bright side, you don't have to pay as much as you would for Adobe Acrobat Pro. Furthermore, when you need a simple user interface and rather optimized workflow for editing and annotating PDF files, PDF Chef is something that you can rely on. The pricing options as we have seen are pretty reasonable for most users.
If you are looking for the same set of features that you get on Adobe Acrobat Pro but do not want to pay as much, you should consider getting Able2Extract Professional. Due to this reason alone, Able2Extract Professional becomes a smart choice for those who want to handle a wider variety of PDF documents at an enterprise level.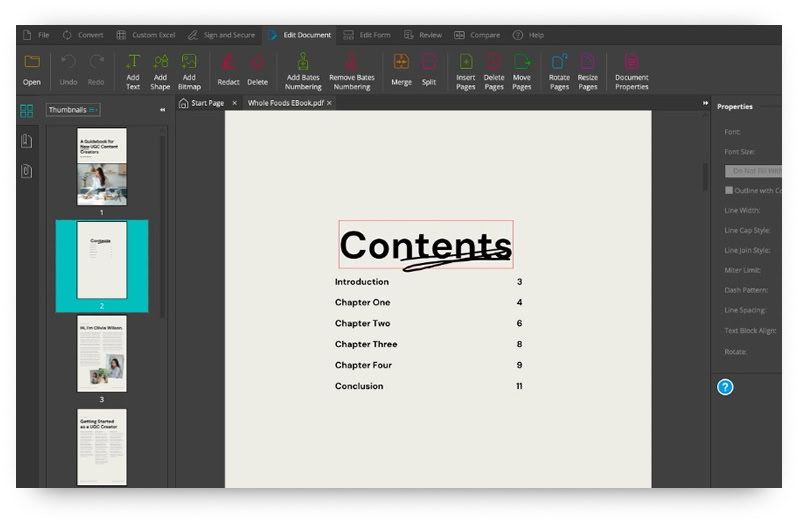 UI
Because it is designed for professional purposes, Able2Extract Professional 18 comes with a rather complex user interface. One might find it a little intimidating at first, but you can master the entire toolbox and the tab system within a few minutes. It is worth noting that you can have better control over the document because the options are spread across different tabs.
Editing Options
The editing options on Able2Extract Professional 18 are impressive indeed. For instance, you can adjust existing elements, and you get definitive options for redacting and deleting information. You also get separate tools to manage form-based elements within the PDF document. Under the review tab, you can also add stamp highlights and sticky notes to make sure that you are navigating through the PDF properly.
Compatibility
Because it's an enterprise-level tool, able to extract Professional 18 comes with a better line of compatibility. The tool is available for Windows and macOS, and you can make it work on mobile devices as well. But the best part about the compatibility aspect of this PDF editor is that it can scale itself according to your requirements.
Additional Options
The first thing you would notice among the additional features of this tool is the incredible support for files and batch conversion options. For instance, you can easily convert HTML, AutoCAD and image files with the help of this tool. There are also options to enable searchable PDF, which is another way of saying OCR. Finally, there is an option to extract data from the tables that you may find in a PDF document.
Pricing
The full license of Able2Extract Professional 18 is available for $199.95. But, if you just want to use the tool for 30 days, you can get the 30-day license for just $99.95. While it's true that the tool is expensive, the sheer number of features that you get on the package is just impressive.
Able2Extract Professional vs. Adobe Acrobat
Able2Extract Professional is a better option than Adobe Acrobat Pro if you are looking for advanced control and compatibility. Because this tool is made for advanced users, you have the option to use multiple file formats and have finer controls over each element in a PDF file. Considering that this is a power tool and that you can save the money that you would otherwise spend on multiple utilities, it is a reasonable pick.
ABBYY FineReader PDF is the best PDF editor and Acrobat alternative when you need the best results in terms of OCR. Therefore, it is a common pick for those who want better control over scanned PDF documents and other files that one might come across at the professional or enterprise levels. But it is important to note that ABBYY FineReader does not compromise on the standard PDF editing features either.
UI
The first thing we noticed about ABBYY FineReader is that it comes in a colossal package. It is because the OCR capabilities of this tool are off the charts. On the bright side, once you have set up the tool, the user interface looks pretty simple, and you can get the hang of all the features in a few minutes. The quick conversion options make sure that you can turn scanned documents into editable content.
Editing Options
The editing options on the ABBYY FineReader app are pretty rich. You have the option to go through different tabs and enable different types of edits. And the detection algorithm is pretty quick in that it can recognize what kind of content you are dealing with on each page. And once you are done, the export options are also pretty good.
Compatibility
The compatibility aspect of the ABBYY FineReader app is impressive in that it works with different sources. For instance, when you want to scan something, you can use the continuity camera option or a connected scanner. The huge package of the tool has been optimized to work natively on Mac. The PDF editor also has features so that you can easily accommodate scanned content.
Additional Features
As we said earlier, the biggest strength of this tool is the OCR capabilities. You can use this tool to OCR documents that are made in different languages, and the support and accuracy of these conversions are increasing day by day because we are dealing with enterprise-level software. You can also expect on-time support, which is great when you are scaling.
Pricing
As opposed to what you may think, ABBYY FineReader PDF for Mac is not an expensive option. You can get the 1-year license of this tool for just $69, which is not much compared to the features you get.
ABBYY FineReader PDF vs. Adobe Acrobat
If you can prioritize OCR, accuracy and finer controls over increased compatibility, ABBYY FineReader PDF is indeed a better option than Adobe Acrobat. And considering the features you get in the package, the price you pay is pretty low as well. However, we should note that the FineReader PDF OCR app is colossal and takes up plenty of resources on your Mac. And it is not an option we recommend if you want to keep a minimal load.
Read our full Abbyy FineReader review.
Free options you can try
UPDF PDF Editor is a great option when you need a free Adobe Acrobat alternative for Mac, Windows, iOS, and Android. The free version of the app packs almost all the features you need for reading, editing, annotating and converting PDF documents. You can also integrate features like OCR and PDF compression, and the ability to do all these things in batch is great indeed.
The preview and notes apps in macOS Sonoma have also gotten so much better these days. And you can expect better PDF editing options later this year. So if you want to keep things minimal and want to stick to something free, you should always use the preview app. Even though it might not have fully-fledged PDF editing options, it is great for annotation and markup.
Finally, you can use Acrobat Reader for basic edits on the PDF. Even though it is a PDF reader, you get basic options for annotating and markup options on the PDF document. So, if you don't want to create a document from scratch or remove something major from the content, it is an option that you can consider. It might be a little annoying because of the regular pop-ups, though.
The bottom line
So, these are the best Mac PDF editors you can find today. We have tried to suggest PDF editors that work well for particular needs. We hope it helps you choose the right one.
If you are still confused and want a PDF editor that's easy and effective and similar to Adobe Acrobat, you can go with our pick, PDF Expert. As far as you don't need anything fancy out there, that choice won't go wrong. However, if you think you need more advanced features to manage documents, we recommend Nitro PDF Pro or Able2Extract Professional. But if you need the power of AI to improve your PDF documents, you can check out PDFelement.
* Readers like you help support TheSweetBits. When you buy something through the links in this article, we may get a small commission at no extra charge to you.