Best HD Video Converter Software for Windows & Mac
Multimedia • Dec. 13, 2022
With the success of sites like YouTube, Vimeo, and Twitch over the past decade, a sumptuous population of content creators has emerged, sculpting a productive and steady career for the same.
The days when producing visual content required an entire studio and a large amount of money are long gone. With so many independent creators, there is an overwhelming amount of video content for us to watch.
While watching videos in standard definition (SD) gets the job done, almost everyone now prefers to view the content in high definition (HD), and for good reasons.
Watching videos in an HD resolution can change the whole experience. High-definition image comes across as sharp with better color and contrast reproduction.
Unfortunately, not all content you wish to watch, be it on your phone, laptop, or TV would be in high definition.
That's where HD video converters come in.
An HD video converter is software that assists in the conversion of video data from standard or low quality to higher quality. However, depending on the video format and software you use, the quality of your video may vary.
In this article, we've gathered a list of the best HD video converters for Windows and Mac to help you ensure your videos look great on every platform.
RELATED: The Best DVD Ripper Software for Digitizing Your Disc Collection
What is a HD video converter?
An HD video converter is software that allows you to convert files between different formats, including the most popular ones: MKV, AVI, WMV, FLV, MP4, and many more in HD.
For example, you want to create a video DVD of your old favorite movie that you can watch on your computer or TV from the comfort of your home with better image quality. Or maybe you want to convert video files from YouTube or Vimeo HD to MP4 files for your newly bought Android device or Apple TV.
Or maybe you used to have some old home videos that didn't look great because they were low quality, but technology has improved so much that you want to re-encode them to HD video viewed on modern TVs and computers.
There are a few factors to consider while using an HD video converter:
First, ensure that your video is encoded in a format that is compatible with the format to which you wish to convert it to.
Second, ensure that you have the necessary codecs loaded on your computer—you may need to do so first.
Third, ensure that you know how to transcode videos to an HD resolution and quality instead of the standard definition.
The best HD video converter for Windows and Mac is WinX HD Video Converter Deluxe, and for the right reasons.
The first thing you should know about this tool is the vast array of features it provides. With more than 400 conversion profiles, including many for high resolutions, you can not only change file formats or codecs but also optimize your videos for playback on practically any device.
Profiles range from mobile devices like smartphones and tablets to televisions, set-top boxes, and gaming consoles.
During the conversion process, WinX HD uses picture-upscaling technology, and the enhancements are visible and of high quality.
When you select a file to convert, you are directed to a window where you must select a conversion profile. Because first-time users are unfamiliar with how this type of software operates, this can be perplexing.
It also may not have the most visually appealing interface, but it gets the job done.
WinX HD Converter Deluxe includes almost all types of video formats you can ask for, including MP4, MOV, WAV, AVI, 3GP, and FLAC.
How does it hold up in a test?
We converted an 11-year-old picnic video of standard definition (848×480 pixels) into a full-HD video; the result left us amazed! It looked like the video had been recorded using today's FHD camera.
Video resolution was upscaled to 1920X1080 pixels and provided a crisp image. As a result of the higher resolution, the color popped even more.
The only downside was the conversion speed, which isn't the best available.
A system running Windows 10 with a 10th generation i3 processor, 8GB of DDR4 RAM, and a 512GB NVME SSD was used to test this.
Pros:
A plethora of features
More than 400 audio/video profiles including HD/FHD/4K profiles are available
Support for ultra-HD resolutions
Free customer support
Cons:
Not-so-fast conversion speed
The free version is limited
Another all-rounder tool for converting between SD and HD videos is Movavi Video Converter. Depending on the results you want, you can not only upscale the videos by converting them into HD, but also cut them down to their basic form.
That is a fantastic choice to explore if your video isn't in high resolution or doesn't require a lot of modification. Movavi Video Converter is much more than a simple HD converter, though.
It also functions as an excellent piece of video editing software with several advantages. Expect lightning-fast processing rates, a plethora of video editing options for combining and cutting videos, and sequence modification and resizing.
For starters, it's really simple to use. It offers an appealing and simple user interface that even complete beginners can utilize. It also offers quick audio/video quality conversion with very high-quality outcomes.
Additionally, in terms of efficiency and quality, the Movavi video converter is incredibly cost-effective. It is quite reasonably priced, especially given the astounding number of features included in the software.
How does it hold up in a test?
For Movavi, we converted an old YouTube video from 2009 into HD on an M1 MacBook Air. The resolution of the original video was 240p and came across as incredibly blurry.
After a relatively quick conversion, we had a more than decade-old video upscaled to HD; it looked good. While there was some ghosting around the edges, the overall image quality looked way better than before.
The upscaled video looked great on MacBook's display and would look good on most modern televisions.
Pros:
Supports 180+ formats
Super fast conversions
Built-in editor
Easy to use for everyone
Cons:
Limited features
Watermark on free version
Other options to consider
VideoProc includes several high-defiition quality-focused high-speed media converters, including a video converter, audio converter, and DVD converter. It also lets you download online videos and convert them into HD format instantly.
As a video editing software, you can use this program to trim, crop, merge and rotate videos.
It supports 300+ input codecs and more than 420 output formats for video conversion. VideoProc can compress large videos by nearly 90% which will come in handy for those with limited storage options.
VideoProc is a simple yet effective application. It's the perfect solution for hassle-free video editing, processing, converting, recording, and more.
Wondershare UniConverter is another awesome HD video converter that provides high-quality and snappy conversion speed. Also, since it's a paid tool, you don't have to encounter ads or upsells when using the converter.
In Wondershare, you can choose from up to 30+ different video formats, including the common MPF, MPEG, and MOV formats. It also handles 4k conversions with ease.
If you're not sure which settings to use, Wondershare has more than 150 pre-configured profiles to choose from.
Uniconverter is an excellent SD/HD video converter for Windows and Mac that offers everything a paid video converter can offer. Users love it because not only is it a good video converter, but it also has other features that help in creating high-quality videos.
WonderFox HD Video Converter Factory can convert videos to over 500 different formats and devices, including HD, 4K, and even 8K. WonderFox is more than just a converter; it also has video editing and recording capabilities.
WonderFox HD can convert videos in 720p, 1080p, and 4K resolutions. Because the tool allows batch conversion, you can effortlessly convert numerous files at once.
To provide high conversion speed, the software additionally makes use of hardware acceleration. The program's interface is straightforward, so you won't have to spend much time learning how to use it.
The only disadvantage is that the free trial has some restrictions. For example, you can only watch videos up to 5 minutes long, and there is no quick transition mode.
Website downloads are similarly limited to 5 videos. The trial version is available for seven days only.
HandBrake is an open source free-to-use HD video converter and that's what makes it stand out. HandBrake is available for Windows and Linux, but it is the Mac version that has made this video converter so popular.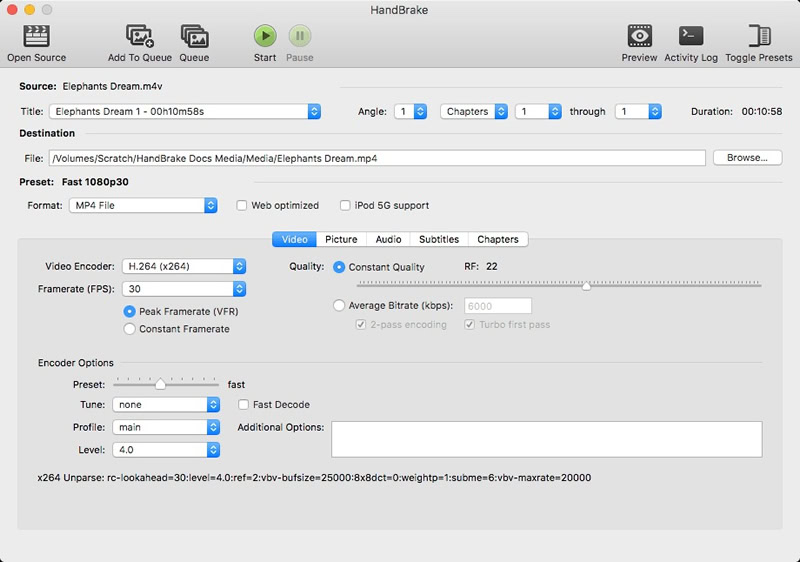 Because the tool is free, you will not be able to upgrade it, and there will be no third-party advertisements. This gives the program a somewhat old appearance, laced with a tacky user interface that can be difficult for first-time users.
HandBrake can be your partner once you've become acquainted with it, providing basic video conversion features. Because HandBrake is a completely free program that does not receive updates, it is also affected by the issue of sluggish converting speed.
The format quality of the converted video is pretty good as well so you should consider giving it a shot.
How can you tell if a video is really HD
HD can be divided into two types: high definition (HD) and ultra-high definition (4K). UHD is more expensive than HD but provides higher pixel detail. You would ideally watch movies and TV shows in UHD and play games, where the greater resolution would provide a better viewing experience.
The most popular method to tell if a video is in HD is to look at its resolution. The sharper the image quality, the greater the resolution. HD resolutions range from 720p (1280X720px) to 4K (3840X2160) and even 8K(7680X4320).
You can also tell if a video is in HD by looking at the frame rate: how many frames per second (fps) are displayed on the screen. The higher the fps, the better quality your video will be. If your frame rate is 60 fps or less, it's not considered high definition. If it's greater than 60 fps, then it could be considered HD.
If you want to check whether your video is HD or UHD before watching it online, you can go to YouTube's "about" page on the right side of any video and click on "HD". If it says "UHD", then it's probably in 4K resolution; otherwise, try another video site like Netflix or Hulu.
Conclusion
Converting videos into HD is a great way to experience your favorite old videos with today's technology. With the help of HD video converters mentioned in this article, you can do that easily.
We recommend going with our top two picks –WinX HD Video Converter Deluxe or Movavi Video Converter 2023, as they proved to be the best of the bunch. Both provide an abundance of HD upscaling profiles, color enhancement features, and more. However, one may be better than the other based on your situation. So it is advised to begin with the free plan first and then move to the paid one.
Read also:
* Readers like you help support TheSweetBits. When you buy something through the links in this article, we might get a small commission at no extra charge to you.