Canva PDF Editor Review: Can It Really Edit PDF?
Your mind is clustered with creative ideas. All you need is the right canvas to splash them on. Let's talk about Canva – an incredibly popular website for creating unique, high-quality designs. There's a lot you can accomplish with it. Normally, it is used for simplifying design process to create invitations, social media posts, business cards, flyers, pdf files, etc.,
However, we are focusing on the PDF aspect of Canva. Just as Canva is free to use for graphic design, it's also a free online PDF editor. Yes, it's free and probably the easiest, most functional PDF editor tool you will ever need. The Canva PDF editor allows you to do a lot more than edit PDF content and lightning-fast speeds!
If you need to learn about the tools alongside pros and cons and how to use them, then read this article, you'll never need to read another one. Let's get right to it!
RELATED: How to Convert Scanned or Protected PDF to Text?
Features of Canva as a PDF editor
Canva is an amazing design tool. However, we are only interested in the PDF editor aspect. Unlike many free tools, Canva lets you fully edit the text and images in the PDF. This means, you get to decide what each pixel looks like. You can click into any text and change it. You can also change between fonts, size, and colors. Moreover, you can also add hyperlinks in the PDF as you please, even in objects. There is a massive library of shapes and special fonts available for you beautify your PDF document.
Canva PDF editor offers so many features for free that it will be a rare site to spot a similar toon online. You can merge your PDF files and organize all pages easily. Moreover, you can insert, split, and extract PDF pages at will. Canva offers a lot more than most free PDF editing tools. Therefore, it is unique in its own way.
Of course, Canva is a full-fledge graphic design and that means it has a wealth of other tools. Nevertheless, you can create and edit amazing PDF documents in high-resolution using Canva. Furthermore, if you have your files stored on other sites such as Dropbox, OneDrive, Google Drive, etc., Canva makes it easy to connect such services and easily copy files into PDF.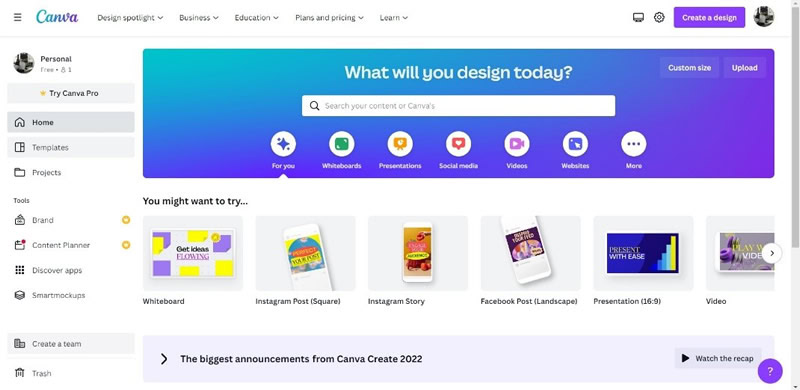 What tools are available in Canva PDF editor?
Above all, you need to know what you have at hand before doing anything. This applies to literally any software you are going to use or a project you are going to start. Without knowing what you have at hand can hinder your creativity. Here's a quick overview of the tools you can access in Canva:
Typo auto-correct
Change, add, and delete images and text
Drawing tools and shape tools
Easily add signatures
PDF file merging
Drag-and-drop editor
File hierarchy system to easily reorder pages
PDF customization
PDF split, extract, and insert tools
Collaboration tools (this truly is an amazing feature that enhances your creativity)
Send and Share editable PDF files
Canva: pricing plans
This does not in any way mean that you have to enter credit card details. You can continue to use Canva PDF editor to edit and create PDF files. However, some templates and elements are available only for premium users. You can accomplish almost the same level through manually designing but if you want speed up the design phase, then a subscription would be nice for you.
As of 2023, Canva offers three pricing plans. They are as follows:
1. Canva Free – 0.00 USD
The free version is absolutely free to use. It does not require a credit card or any sort of purchase. You can just sign up using your Google account and you are good to go. This plan includes a super easy drag-and-drop editor tool to customize designs. In addition, there are over 250,000 free templates! To sweeten the deal, there are more than 100 design types and over 1 million free graphics and photos. In all fairness, that is quite a lot for a free tool.
2. Canva Pro – 54.99 USD
Canva Pro has everything from the free version and includes over 100 million premium videos, audio, graphics, and stock photos. On top of that, there are over 610,000 free templates and more designs are added on daily basis. Canva Pro is perfect for setting up your brand identity in only a few minutes. There are a lot of collaboration tools and editing tools that make the design process easier. Finally, as a premium user you get 24/7 exclusive customer support.
3. Canva for Teams – 84.90 USD
As the name suggests, this plan is dedicated to team work. It offers you 1 TB cloud storage space and you can access unlimited features from both prior plans. The Teams plan also comes with ISO 27001 certification and compliance alongside SSO. In addition, there are analytics tools such as insights and team reports.
Which Canva price plan is right for you?
Both, Pro and Teams plan include unlimited folders, features, and premium content. You can also create dedicated folders for specific projects. This is an amazing feature that helps you organize your workspace on Canva. However, if you just want to test the waters or you are just starting out. Then it is recommended that you go for the free plan.
Should you buy Canva editor?
At this point, you know what tools Canva has to offer and at what price. The question is: Should you buy Canva PDF editor? There are two answers and you guessed them right! Yes and No.
You can buy Canva if you need an enjoyable, simple yet powerful photo editor. Using this, you can create unlimited photo masterpiece or PDF documents or modify a range of existing ones.
You shouldn't buy Canva if your work involves serious management and editing of photo or PDF files. As you already know, Canva does not offer advanced PDF editor tools at the moment.
Now that the paid bit is taken care of, let's get learning how to create an editable PDF in Canva and download it.
How to edit a PDF in Canva?
It's fast, it's simple, and you can create an editable PDF in Canva in 5 easy steps.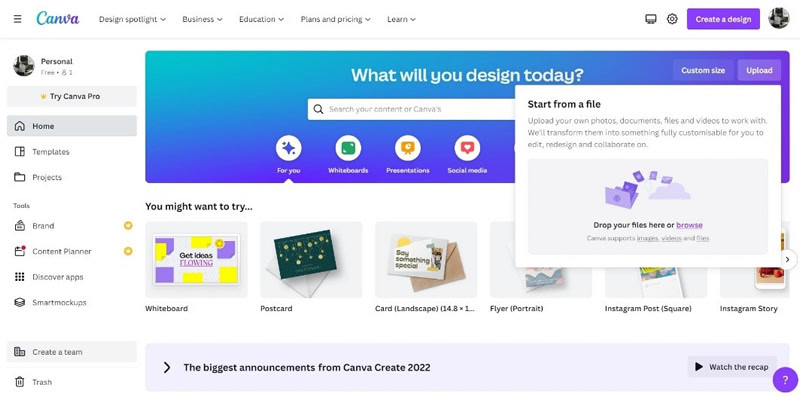 Step 1 – Launch your Canva
Desktop software may take time to load up but Canva runs on browser, so it only takes a few seconds to launch.
Step 2 – Click on the Upload button and select the PDF you would like to edit
The upload button is located on the top right of the screen. Once you click it, it will show a drop-down. From there, you must select "Browse" or Drag and Drop the PDF in the grey area.
If you go with 'Browse', locate the file in your computer and click 'Open'.
Step 3 – Let the PDF upload and open it in Canva
Give it a few seconds. Once the upload completes, it should show up under 'Recent Designs'. Just click on it to open it up in Canva.
Step 4 – Edit your PDF
Canva uses its intelligent algorithm to separate texts and images. In addition, it also recognizes the fonts. You can edit every aspect of your PDF and even add more to it!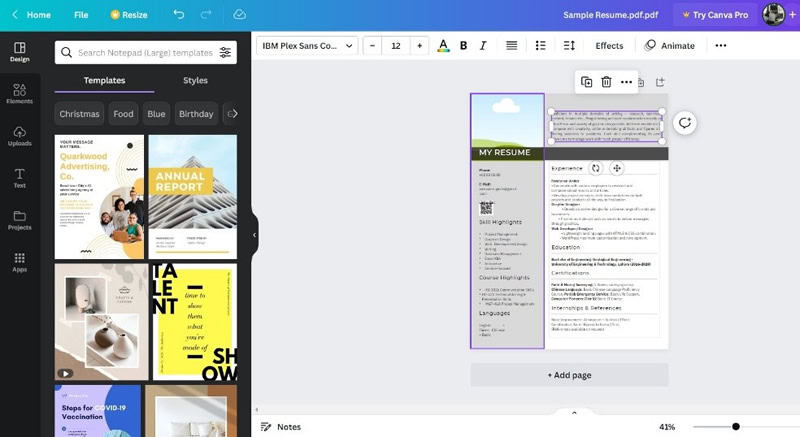 Step 5 – Finish up editing the PDF and download it
You can add elements and change the details. Once you are satisfied with your edits. Click the 'Share' button on the top right. It will show you a drop-down menu. Simply click on 'Download' button.
Once you click the download button, it should display the option to select 'File Type'. Click on PDF format and download it!
Step 6 (additional step) – Check if the PDF is editable by opening in any PDF editor
You can open it in Adobe Acrobat or any editor of your choice. In this case, we checked it with Adobe and everything was working beautifully!
That answers the question if Canva can edit PDF files. Now let's see if Canva can create editable PDF documents as well.
Can Canva create editable PDF?
Creating an editable PDF in Canva is even easier. Here's a step-by-step image guide to simplify the process.
Step 1 – Click 'Create a Design' and select an option from the drop-down menu
In this case, we have selected 'A4' Document. A new tab should open and take you the editing screen.
Step 2 – Choose a template to create an editable PDF
The left side of the screen will display a library of templates. You can pick one that meets your requirements. (You can also create from scratch).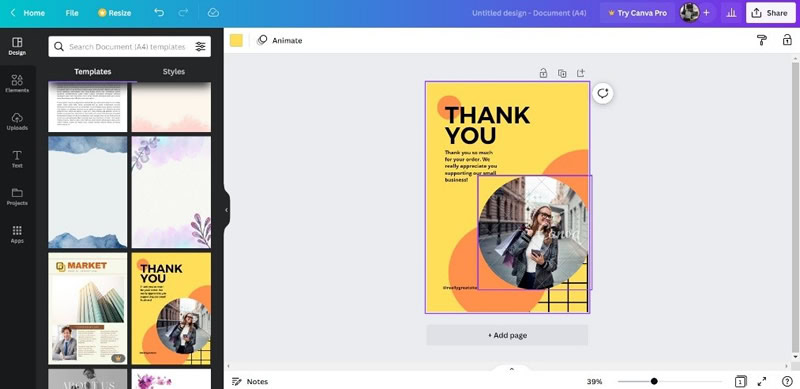 Step 3 – Make your edits and required changes
You can edit everything from images to text. Once you are satisfied with the design, click on 'Share'.
Step 4 – Download the file as PDF
The 'Share' button should toggle a drop-down menu. Simply click on 'Download' button.
After you click the 'Download' button, you will be prompted to select the file type. Select 'PDF' in the selection menu and click download.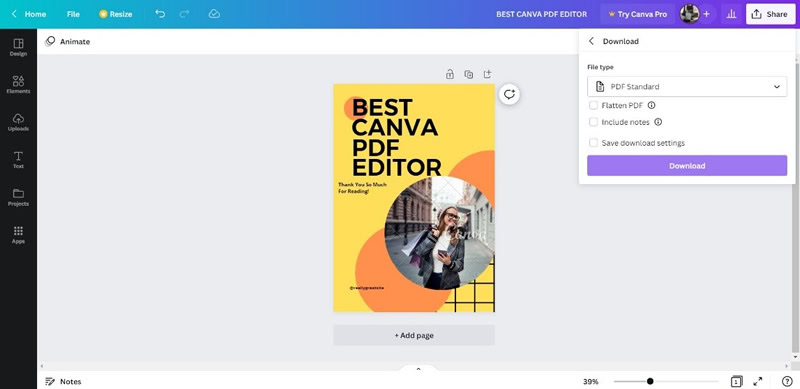 Step 5 (additional step) – Open the downloaded PDF in any PDF editor
Open your editable PDF in an editor of your choice and you should be able to edit it.
That's it! You have created an amazing high-resolution editable PDF in Canva.
Already feeling like you know Canva like the back of your hand, right? You now know everything from tools involved and pricing plans. You also know how to edit and create an editable PDF file on Canva. Just to sharpen all that knowledge into a more compact portion for your memory, let's summarize everything you learned.
Summarizing Canva PDF editor
Let's squeeze everything you learned about the Canva PDF editor into pros and cons.
Pros
User-Friendly
Canvas is free to use
Makes the design process enjoyable
Works flawlessly for creating and editing PDF files
Cons
All great things come with a price and Canva brand kits require a subscription
Even though Canva is great but it is not a fully featured PDF editor for now
It's also important for you to know that you can make plenty of editable PDF files in Canva. However, not every PDF file is editable in Canva. This mostly comes from the lack of advanced tools.
You're a master of Canva! Now, for the sake of double-checking, let's see if we reached the same verdict.
The verdict
Canvas PDF editor is great and maybe not so great. It depends on what are your requirements. Canva is intended to give off an enjoyable experience. It's made simple and does not feature any advanced PDF editing tools. This means it is more suitable for users with design creative masterpiece. On the contrary, if you need a robust PDF editor with all the advanced tools, here the best PDF editors might be the right pick for you. Overall, Canva truly is an innovative way to make and modify editable PDF files. In all fairness, it is recommended you give it a shot.
Read also:
* Readers like you help support TheSweetBits. When you buy something through the links in this article, we may get a small commission at no extra charge to you.