Top Free and Premium Fonts Websites
Multimedia  •  Updated on July 13, 2023
Whether you are creating a website, or just having fun with a personal project, the world of fonts can be a tricky one to navigate both as a novice and as a seasoned pro. The style and appearance of print, or typography, make up about 95% of the internet. Typography is incredibly important in how readers interpret and interact with your online work. Your online work should represent your best, and so should the typography you use.
Words do not just convey the meaning that they have in the definitions. How you decide to present your words visually conveys meaning, and you must know what that meaning is to best represent yourself. Because there are many elements to typography, it can be at first difficult to understand the meaning of different types of fonts convey to your audience. To sort through all of these font options on a Mac, make sure you check out the best font manager apps for macOS.
Outdated fonts, fonts with incorrect letter spacing, and fonts with incorrect line spacing can all be detrimental to the reader's experience on your site or project. The importance of choosing the right font cannot be understated, which is why you need to know where the best places to get free and premium fonts online are found.
Open source and free font sites
FontSpace is our favorite resource for free fonts for your website or project. It offers a competitive selection of legally licensed fonts, giving you ease when you search for the font you want.
FontSpace is special compared to other font websites because it uses a visual approach to displaying its catalog. From the second you open the homepage, you are immediately exposed to the best FontSpace has to offer. FontSpace organizes its massive library by sorting between popularity, name, and the year it was published.
In addition, FontSpace has something called Font Generator, which allows you to see what your text will look like on more than ten fonts at the same time. Some other font websites have a similar feature, but none allow you to view this many options at once.
Google Fonts is an amazing free resource. Currently Google Fonts has a library of over 1,500 free fonts, which are available in over 135 languages. Each font is customizable in thickness and width, so you can get the exact look you are going for.
These fonts are open source and they are copyright free and can be used commercially. Avoiding the stress of copyright laws, which may vary depending on which country you are in, allows you to know that the fonts you select will never get you into legal trouble.
Google Fonts also has a unique section that other free font websites do not have, called Fonts Knowledge. Fonts Knowledge enables everyone from web designers to personal project developers to better understand how to choose between distinct fonts. It offers special information and several articles about choosing a type, OpenType, web fonts, typography essentials, and variable fonts.
Freepik is another great source for free fonts. Freepik has a huge library of hundreds of fonts, as well as graphics and vectors that can be used in your projects. Not only does it have an impressive selection of visually aesthetic fonts, but most are also of high quality. You can get them in different file formats, such as OTF and TTF.
The best thing about Freepik is that the filters make it easier for you to get what you are looking for: serif, sans serif, display… In addition, there are many categories that make finding the perfect font a piece of cake. You can download and use them for free, but Freepik requires attribution. In case you don't want to give credit to the author, you can give the premium membership a go. It comes with extra features such as exclusive files and more daily downloads. The cost of the Premium membership varies depending on how long you want it for, but it starts at $8.5 per month.
The League of Moveable Type is one of the safest free font websites, in addition to being the most highly-decorated font foundry in existence. LMT is amazing because it has distributed iconic fonts for massive brands such as Instagram, DC Comics, and American Airlines. If it is safe enough for some of the largest corporations in the world, it is safe enough for you.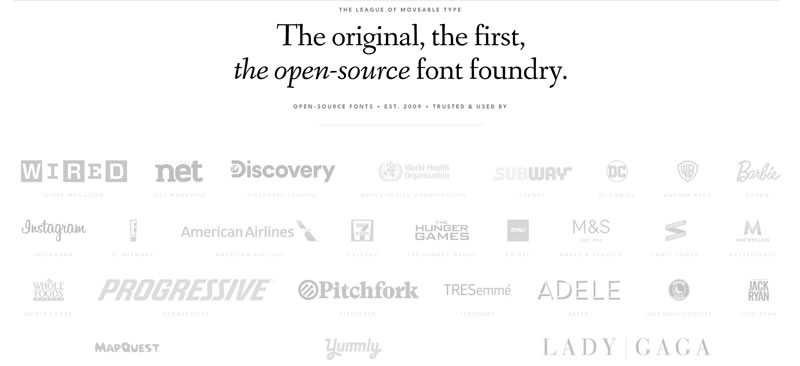 LMT was the first open-source font foundry, producing and distributing fonts since 2009, which gives it an edge in experience when compared to the other available websites. In addition, its relatively limited catalog of usable fonts is superseded by LMT's commitment to quality.
If you are interested in a font from LMT, simply go to their website, scroll down to the bottom of their page, and select from one of the 17 available options. To test custom writing, click on the font you want to test, and type whatever you want in the text field. This will give you an idea of what the font will look like on your website.
The Velveltyne Type Foundry offers 61 free, open-source fonts. Despite its comparatively limited selection of fonts, each font offered by VTF is extremely special, and it is certain to catch your eye.
Their website can be a tough one to navigate, so here are a few helpful tips to get the most out of VTF. Immediately upon entering the homepage, you will be able to scroll through the various available fonts. As displayed in the image, the top left corner of the home page has a Random button, which you can click to have a random font selected for you.
Unlike some other fonts on this list, VTF has a great feature that few other free font websites have available. The In Use button in the top right center of the homepage will allow you to see how VTF's fonts are being used across the world. This can be an incredible source of inspiration and trial for how your font might look on a finished product.
Unblast offers 667 fonts on a website that is super easy to navigate. Unblast is separate from other free font foundries because it displays all of the fonts in its library with a distinctive image or design. Unblast helps you pick the right font for your website or project by showing how they intend their fonts to be used.
Furthermore, Unblast also offers Playful and Vintage categories, which no other free font websites offer. If you are making a personal creative project or if you are looking for a certain type of font within a specific niche, these categories can further assist you in your search.
Premium font sites
MyFonts is our top recommendation because of its largest collections of fonts and foundries. With over 130,000 options. MyFonts is still constantly growing its library, with dozens of fonts being added to the site every single day. It is a great choice if you are looking to purchase a premium font for your website or project.
The search function makes it easy to find the fonts you need, or you can browse by tag. The site also clearly displays some of the most commonly used styles of fonts right on the home page. To install a font from MyFonts, you will need to create an account first. Once you are registered, the site functions as any other e-commerce site, where you select the fonts you want, add them to your cart and pay.
MyFonts offers its premium services at a variety of levels, ranging in price from $99/year to >$20,500/year. Each font plan includes at least 1 user account and 30,000+ fonts.
VJ Type offers a very small, yet clean selection of professional fonts. Despite only including 12 fonts, VJ Types makes up for their lack of variety with extremely high-quality, ascetic fonts. Each font is sold individually for $83.
Additionally, for each available font, there are upwards of six styles, each of which is outstanding from the parent font. Each of these styles almost looks like an entirely different font, but the core elements are still recognizable. This feature gives you incredible versatility with how specific you can get with your font customization in your project.
Creative Market offers far and away the most options for creative projects, going far beyond the realm of typography. It offers everything from web themes to 3D creations, as well as much more. For all of your projects, you need to know the best websites for free stock images, in addition to everything Creative Market has to offer.
Creative Market is a great option for free and premium fonts because of its diverse creative library, which includes a multitude of content forms that can be paired with a great font on your website. It is also very easy to use compared to other premium font sites like Behance because Creative Market has a Fonts tab and an incredible user interface.
Creative Market offers its services in three different plans ranging in price from $19.95/month to $49.95/month. Each plan includes a minimum of $25 worth of design assets and $1,000 worth of design drops.
Canva is a one-stop online graphic design tool with a mission to empower everyone in the world to design anything and publish anywhere. Not everything is free, but 250,000 free templates and 100 fonts might just be enough to get you started. Cava Fonts not only has over 100 fonts to choose from, but it also hosts a variety of articles to choose from to learn how to best use your font.
As the name implies, Canva Fonts is a subsidiary of Canva. This means everything you love about Canva also applies to Canva Fonts, which is shown with Canva Pro. Canva Pro costs $119.99/year or $12.99/month with the monthly plan.
Once you sign up and pay for Canva Pro, you will gain access to not only just the Canva Fonts but also the fonts the Canva writers recommend in their articles. You can use these fonts on various graphics, designs, and posters.
Fontspring is another industry leader font website for removing the hassle of dealing with copyright licensing. Although they do not have a subscription service, they offer both free and paid fonts. Fonts from Fontspring are also reasonably priced, being around $30 for most premium fonts.
Fontspring is exceptional from other premium font websites because it has a system for informing you how safe each font you view is. They examine all license agreements and will flag any anomalies. Furthermore, Fontspring will award fonts that are extremely safe with the Worry-Free badge, indicating that the author has a valid license, and you will be free from the risk of copyright infringement.
Creative Fabrica is similar to Creative Market and you can buy fonts and other resources individually or get an all-access membership for unlimited downloads.
Creative Fabrica is known as a marketplace for digital files, such as fonts, graphics, and machine embroidery designs, created for artisans. Most designs published and sold here are aesthetic and are available in bundles. It's also got one of the largest font libraries filling up with nearly 113K fonts available to download and use in design projects.
The prices at Creative Fabrica are generally very good, with the discounted $4.99/month subscription, you can access all graphics, fonts, classes and more. And if you want to check out the platform, but aren't sure about it – you can try it for just $1 for the first month.
Fontbundles offers hundreds of both free and premium fonts, as well as bundles for a variety of premium fonts. It has a catalog covering major holidays and seasons, such as Christmas, Halloween, and Winter, with a variety of other themed fonts covering everything from pets to neon lights.
In addition to its themed fonts, Fontbundles is distinct from other font websites because it is aggressively changing what it offers. The site is constantly improving its selection of which fonts are available, which is best demonstrated by how many of the promoted themes are conscious of the time of year in which you visit the site.
Fontbundles sells three variations of its Plus Membership, ranging from $8.99 to $18.99 per month. Some of the benefits to each level of membership include discounts, credits towards Plus Products, custom avatars, bonus points, rewards, and access to $1 deal events.
FAQs
What is a foundry in fonts?
A place that produces typography and publishes fonts. It is a resource for locating, acquiring, buying, and distributing various fonts.
Are free fonts legal?
First, check to see if the file is licensed or copyrighted. This will typically be in the form of a "readme.txt" file. Additionally, check the United States Copyright Office for copyright licenses originating from America. Then, be sure to check the site you downloaded the font from for copyright details. If you have lost the original website, do a Google search using the exact name of your font to acquire details about its legal status.
Can fonts be malware?
No. Licensed font files are passive files and cannot be malware or contain viruses. Executable .exe files can contain viruses that activate when the font is displayed. In addition, bugs inserted in a font file can become malware if the code is dysfunctional. It is important to double-check the source of the font you wish to use. All of the sources presented in this article are completely secure.
What is the difference between a font and a typeface?
A typeface is the general style and appearance of letters in written form, while a font is a specific variation of the typeface including factors like weight and size. Put simply, a font is a specific kind of typeface. Typefaces often include a set of fonts with similar qualities to give the viewer more options.
What does CC0 mean in Creative Commons?
No copyright reserved. This effectively means that creators relinquish copyrights on their material so it can be edited, mixed, and redistributed without attribution.
Go beyond typography and embrace creativity
All of the font websites mentioned in this article are fantastic options that give you plenty of choices for your next project. Free font options have lots to offer you, as there are thousands to choose from that could be the perfect fit. Expanding beyond the free fonts can give you an edge. Many premium fonts offer a greater artistic spark and flow well to best compensate the reader.
Keeping your readers engaged is a crucial part of any website, and your font selection can be of great use. By ensuring that the fonts you select look great for your project or website, you best represent yourself and your work, all while providing the most value to your audience.
Read also: