Rescuing Your Data With These Free Recovery Tools is Possible
Utilities   •   Oct. 12, 2020
The main purpose of storage drives is to store your files and you only realize the true pain of losing something of sentimental value (or importance) when it's long gone.
But is data really gone when it's wiped out from your disk or there's a slight possibility to recover it? It's definitely possible to recover your data even way after the files have been deleted from the trash. However, it's going to take a really good data recovery software to help you out with this.
Luckily for you, you're in the right place since you'll find some of the best free data recovery tools for Mac and Windows down below. However, we'll also try to teach you a bit more about data recovery and loss prevention – so keep on reading!
When is it too late to recover data?
Some people think that once the file is way past the trash bin on your computer that it's long gone.
But is this true?
Absolutely not. With data recovery software available out there, it's definitely possible to recover data even when you're truly convinced that the file is long gone.
However, it's important to act properly once you lose a file so you can 'preserve' it even when it's gone.
And how do you do that?
When you realize that you've lost a file, here's what you have to do to increase the chance of the file recovery:
Stop using the computer or a drive where the file is missing from
Look out for the most ideal data recovery tool for your situation
Once you have found the tool, try not installing it on the same drive you're recovering the file from
When you find the file in the data recovery tool, export it to a different volume of your hard disk
And why is this important?
When you delete a file by accident (or when it gets wiped out), there's still a high chance of recovery as long as you don't overwrite it on the disk drive.
Our favorite top free data recovery tools
Even though there used to be way more free data recovery tools out there – we still have compiled a list of pretty great options so you can choose a tool that fits your needs the most.
Down below, you'll find the reviews of the following free data recovery tools.
Ideal for Mac OS:
Ideal for Windows OS:
Note: Though we talk about free computer data recovery tools below, you might also be interested in taking a look at some of our other lists of iPhone data recovery software and photo recovery software.
Disk Drill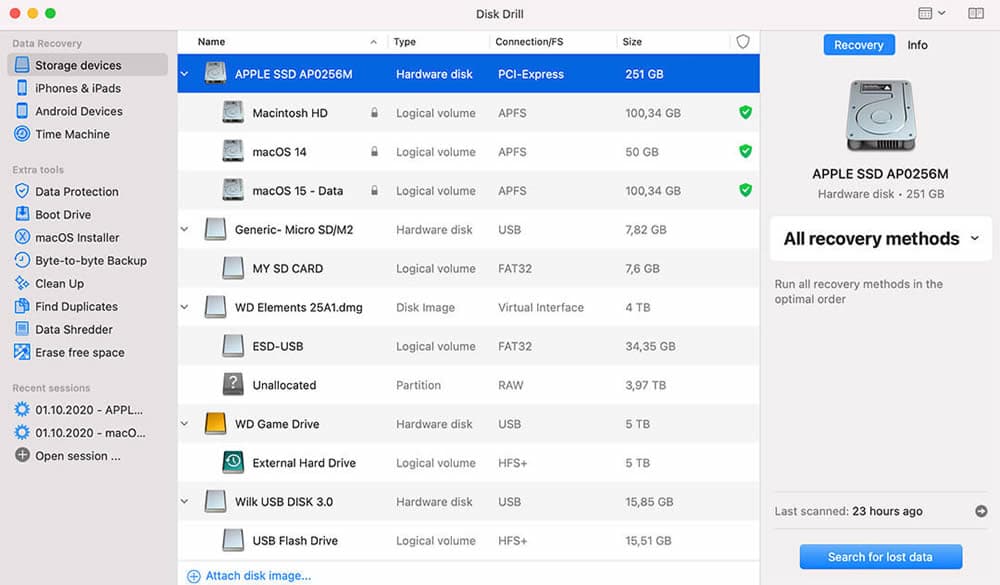 Disk Drill is high on our list for a couple of reasons.
However, the main reason is its capability to uncover data that's not only erased, but is lost from a bad disk drive or is unreadable.
Even though Disk Drill features a paid version (Pro), you can recover up to 500 MB of filesfor free. The catch is that you can't select manually the file you'd want to recover with the free version, yet it recovers files as a group. This might not be suitable for a heavy user, but someone who mostly trashes Word, Excel, or PowerPoint files can still make good use of the tool.
The interface is very simple and other than the most important data recovery feature, Disk Drill is also equipped with two data loss prevention functionalities that can protect your data and help prevent any data loss in the future.
What we like the most is that you'll even be able to create ISO or DMG files directly from the files you've recovered using Disk Drill.
For a free data recovery tool with a paid option, we still believe that Disk Drill has many great features that are hard to find in other free data recovery tools. Therefore, the chances of recovering your data are very high using the Disk Drill.
Pros
Very easy to use
Great success rate
Suitable for both Windows and Mac systems
Works with external drives
Cons
Is limited by a 500 MB recovery
Can't recover a single file with the free version
EaseUS Data Recovery Wizard for Mac Free Edition
If you've been browsing for a great data recovery software, there are high chances that you've come across EaseUS Data Recovery.
EaseUS Data Recovery is a wizard that doesn't work like other data recovery tools, yet it has a built-in interface that looks very much like a Windows Explorer type.
Along with that, it features 3 easy and simple steps that anyone can follow (no matter the previous technical knowledge).
The scanning feature is very quick which gives you a list of files you are able to recover, while the data recovery process itself is decent enough for a free recovery tool.
As a free user, you will be able to recover up to 500MB of your data, and the great news is that EaseUS Data Recovery works for both computer/laptop and external drives.
We really like that this tool has a bit more advanced features built into the free version, such as the recovery of group deleted files with the help of the Tags feature or an enhanced FAT file recovery.
Another great thing is that EaseUS Data Recovery is available for both Windows and Mac OS and if you share the software on your social media, you will be able to get 2 GB of free data to recover! That's pretty cool, don't you think?
Pros
The ability to recover up to 2 GB of files
Guaranteed high recovery rate
Can restore files from formatted disk drives
Cons
Has no ability to sync between more than one computer
>> Free Download EaseUS Data Recovery Wizard for Mac Free Edition
R-Studio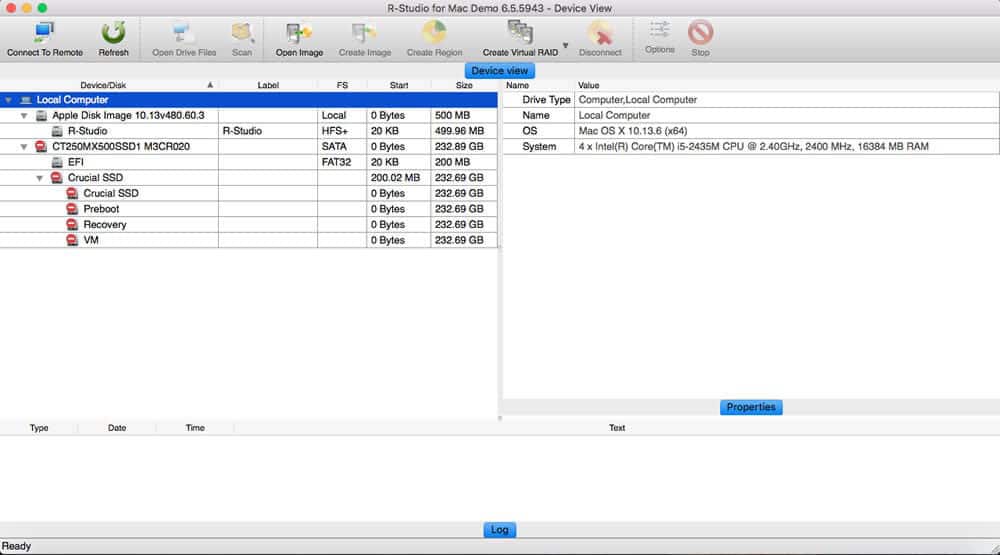 If you're a Mac user, we highly recommend R-Studio for quick data recovery as it's the tool that's specially designed for the Mac OS (even though it's also available for Linux and Windows).
The interface is very simple and it might look like it is a bit outdated, but the most important part of the tool (features) is what's really important.
With that being said, you can rest assured knowing that R-Studio can help you recover files from various Mac specific files such as APFS, HFS, and HFS+.
Even better yet, if you've lost just one or a couple of files – R-Studio can help quickly locate and recover specific files, instead of giving you a lot of files to sift through.
We were really surprised to see R-Studio in action tackling harder recoveries such as file recovery from a corrupted disk drive or a formatted drive with only the free version of the tool.
There is also a paid version (R-Studio Pro) which is even more effective and if you don't seem to be able to recover your file – trying out the paid version might be an even better solution.
Pros
Supports multiple operating systems
Decent customer support team
Supports drives with unknown file systems
Cons
Inability to pause the recovery process
TestDisk Data Recovery

Many users will skip over the TestDisk Data Recovery tool because it's a tool that doesn't have its own interface, yet it operates using the command line.
However, this helps the tool with file systems and offers wide operating system support so you can recover partitions, boot sectors, and even file tables.
It might not be the most suitable tool for the average user who's suffering from data loss, but if you're a professional who is missing work files – TestDisk Data Recovery is the best tool to help you out with this matter.
How come?
The extensive features that are directly tied with the command-line tool are the main reason. However, we still suggest you learn how to use a tool such as TestDisk Data Recovery as it's a type of tool that can leave permanent damage to a drive unless it's used correctly.
If you've dabbled in Mac OS's command line before, TestDisk Data Recovery won't be a stranger.
Pros
Opensource version which is free for everyone and can be modified further
Great partition support (along with the support of many file systems)
Integrates well with the Mac OS command line
Doesn't require installation
Cons
Doesn't have the user interface yet it's only command-line operated
Slight learning curve
>> Free Download TestDisk Data Recovery
PhotoRec
The most common lost file is the image file and it's often the most precious file to the users as the images often tend to have high sentimental value.
And if that's the situation you're in – PhotoRec is an ideal data recovery tool because it's made to recover photos well and it's also an open-source tool that can work well with any operating system. This includes Windows, Mac OS, and Linux.
However, don't let the name make you think that the photos are the only format you can recover with this tool. With PhotoRec, you can recover up to 500 different files across 3 different operating system platforms, hard disks, and removable drives.
Even though the PhotoRec doesn't have an interface and it's only command-line based tool – it's one of the most often updated free recovery tools out there so if nothing else works for you – PhotoRec is definitely worth a try.
The only downside is that you have to figure out how the tool works (a small learning curve) which will only then let you take full advantage of its features.
Pros
Reliable data recovery performance
Quick search scans
Works with multiple operating systems and file systems
Cons
Is only suitable for Windows
Doesn't have an interface
Glary Undelete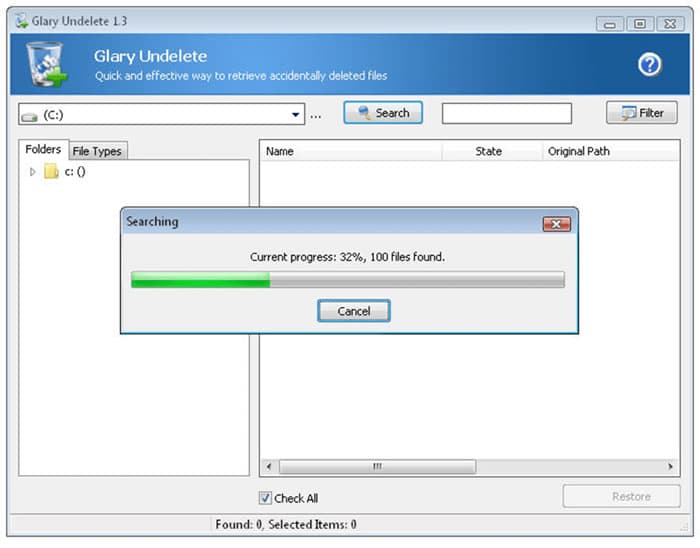 When you know that you've accidentally deleted something that's of extreme value to you – instead of feeling guilty or pitying yourself,  you should try Glary Undelete.
Glary Undelete is a tool that's perfect for a speedy recovery of the recently deleted files. The name of the tool itself might sound familiar as it's made by the same creator of the Glary Utilities.
Even though it might not be magic, Glary Undelete is very efficient in the recovery of the files when there hasn't been too long between the loss of data and the recovery process.
We find that Glary Undelete is really efficient in recovering the files right after the data loss, so it might be an ideal first-choice to think of.
However, we'd leave other choices for more complex data recoveries.
We like that the searches are filterable so you can quickly find and recover what you're looking for (even when the files aren't actually there on your computer).
On the downside, Glary Undelete can find too many files which means you'll have to sit and sift through all the files before finding the one you want to recover.
Also, you should keep in mind that Glary Undelete is only available for Windows.
Pros
Very simple interface (no learning curve)
Predicts well whether the file will be fully recovered or not
It's free to recover lost data on Windows
Cons
Hasn't been updated in a long time but is still efficient
>> Free Download Glary Undelete
Recuva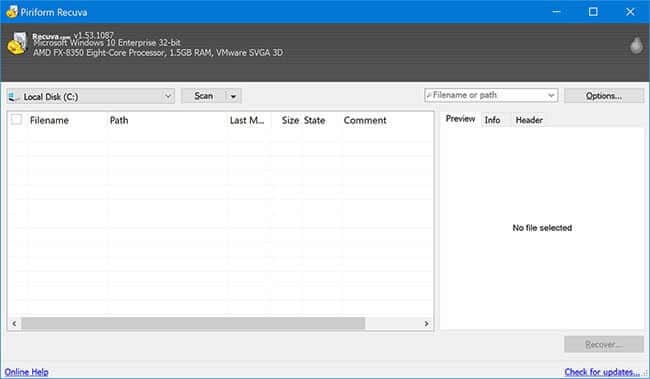 When you're looking for a light and yet very effective data recovery tool – Recuva is the tool to consider.
Recuva is one of rare free data recovery tools that have no limit on the amount of data you can recover, and yet it has advanced features such as a deep scan to allow you to discover hard-to-find files on your computer.
But even better yet is the fact that you can use Recuva as a portable tool that doesn't require the installation. This means that you can directly run it from the USB so you don't do the recovery from the same disk drive you're using to look up for the missing files.
Even though Recuva is only suitable for the Windows operating system, it's very efficient at discovering and recovering FAT and NTFS type of files in both 32-bit and 64-bit operating system versions. However, there are many Recuva alternatives for Mac so we highly recommend you to look up for it.
Another fact is that the Recuva is a part of the CCleaner development so you know that it's there to provide as much value as possible.
The interface might look a bit outdated, but the effectiveness of the software is what is truly important and it's the main reason we've listed it in our review!
Pros
Ability to preview files before recovery
Step-by-step walkthrough process for great ease of use
Suitable with many Windows versions
Cons
Advanced file recovery isn't available within the free version
Doesn't support virtual hard drives within a hard disk
Undelete 360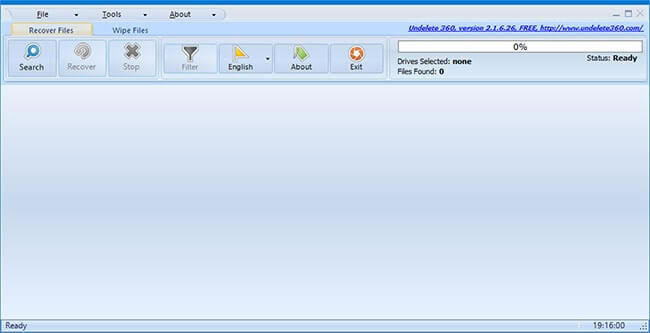 Even though Undelete 360 is an old-school data recovery tool that works the best with Windows 7, there's a reason it's still one of the most effective free data recovery tools out there.
It's very simple to use and yet it's very efficient and recovering files that have been recently accidentally deleted from your computer.
The interface has two sections which allow you to scan your computer (or external drives) for deleted files, and a section where you can let the recovery process run.
Finding a targeted file is very simple thanks to the file tree function in combination with the file path feature.
Along with that, Undelete 360 has a feature that helps you safely delete all other files that are beyond recovery to improve the health of your disk drive.
Even though Undelete 360 is the most suitable for Windows 7, it will work with all Windows versions. Unfortunately, it's not suitable for Linux and Mac OS.
Pros
One of the best free search filters within the recovery tool
Can recover files from mobile phones or gadgets
Supports many file systems
Cons
Inability to manually select files you'd like to recover
Wise Data Recovery
Wise Data Recovery is another gem from the WiseClean family of software and if you're looking to find one or a couple of files – Wise Data Recovery can definitely help.
This tool features a simple interface and it works on a similar principle to other free data recovery tools that utilizes an intuitive interface and a 3-step process.
The first thing you have to do is select a drive you want to recover files from which will let the tool scan the drive for lost files.
From there, you get a clean view of files in an item-tree style so you can find and recover the file you're looking for.
The tool is very simple to use, it's very effective immediately after the loss of data occurred, and we must complement its quick scanning process.
Unfortunately, there is no deep scan available and you only have high chances of recovering recently lost files – but it's still one of the most efficient free data recovery tools that you can use on Windows.
Pros
High rate of file recovery that has been recently deleted
Supports almost all Windows system files
Fast scanning speeds
Cons
Doesn't support exFAT file system on a Mac
Inability to do a selective file recovery
>> Free Download Wise Data Recovery
PC Inspector File Recovery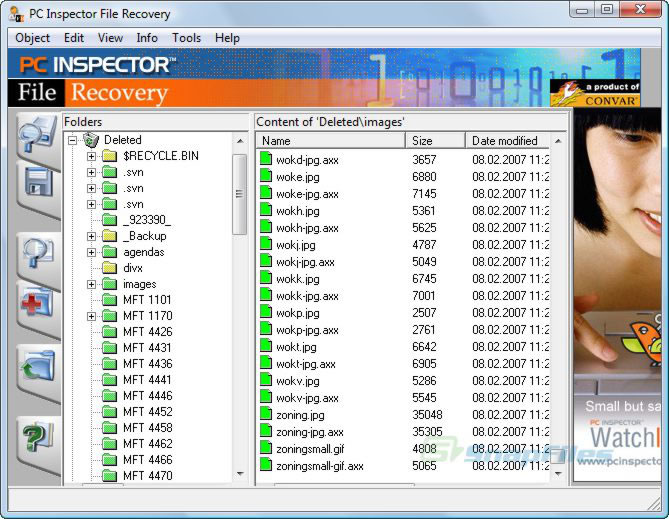 PC Inspector File Recovery is very similar to Wise Data Recovery, and yet it can be considered a bit more advanced version.
With PC Inspector File Recovery, you can easily recover the most recently deleted files. However, where this tool proves the most is the ability to recover files from deleted or formatted disk drives, even when the boot sector is erased.
This is a feature that's mostly available with the paid versions of data recovery tools – however, it's really great to see a free version that is still around.
Even though it's not the most updated tool out there, it's still very efficient as long as your disk drive (or computer) isn't physically damaged.
We've noticed that PC Inspector File Recovery was able to detect some files that other free (and even some paid) recovery tools weren't able to detect.
This just shows how much further you can take the recovery process to. With the simple and easy-to-navigate interface, all of your deleted files will be automatically put into a correct file structure.
It is a feature that definitely helps users find the file they're looking for without losing too much of the time.
However, the only thing is that PC Inspector File Recovery is suitable for Windows operating system only.
Pros
Great correct file structure for easier search
Works best for the most recently deleted files
Can recover a file from an erased boot sector
Cons
Outdated user interface
A bit limited functionality of the interface
>> Free Download PC Inspector File Recovery
Are free tools enough for data recovery?
Most people are pretty skeptical about free data recovery tools, only until they try them out and find them to be a really effective solution.
But are free tools really enough or you would rather be more efficient or have higher chances of recovery using a paid version of a tool?
We believe that you shouldn't stay away from free versions. In fact, this review shows that you can get the job done (no matter the circumstances) very quickly and efficiently with some of the best free data recovery tools listed in this article.
And if that doesn't work out or if you feel like a feature in the paid data recovery tool might be the thing you need – upgrading is always possible later on.
[ Related: The Best Data Recovery Software for macOS ] For about 80% of people out there, simple data recovery can be efficiently done with free data recovery tools. And with such a great choice you have – you should definitely give at least one of these a try.
Of course, after you successfully recover your file – don't forget to check out if the tool you've used is accepting donations!
How we choose the best free data recovery tools
We've listed a great number of free data recovery tools and while any of them might seem like a great choice – how do you actually know which one will fit your needs the most?
It's all about knowing what to look out for and in this part of the article, we'll show you how we chose the best free data recovery tools so you know exactly how to choose the one that will fit your needs.
All you have to do is look out for the aspects and factors that surround these tools and then make your choice accordingly.
The aspects and factors we've mentioned are the following:
Scanning speed and recovery speed
System support
File type support
The great thing about the free tools is that you don't have to worry about the budget. However, when it comes down to performance and efficiency – you still want a tool that will get the job done no matter whether it's a free or a paid tool.
Scanning Speed and Recovery Speed
When you realize you've deleted a file by an accident or you've noticed a file loss – it's important that you act quickly.
Scanning speed is important because it's the first step you'll get to do before browsing through the list of files you can recover.
Recovery speed is also important as it can help you in situations when you need to recover the files quickly (even without anyone else noticing).
Even most free software has a really quick performance but still, it's something to consider.
System Support
Not every tool will be a great fit for your system, so you should know which operating system you're using and ensure that the tool you're looking out is compatible with your system.
Otherwise, you won't even be able to install it or use it to recover your files.
File Type Support
Not everyone loses the same type of files so if you know exactly what you're trying to recover, it's important to take note and ensure that you find a tool that has the ability to recover the file type you need.
Conclusion (and bonus tips to prevent data loss)
Data loss is a stressful and unpleasant, whether you lost it due to software or hardware failure, cybercrime, or accidental deletion.
When you realize you've lost files, it's not only important to face everything and act quickly, but it's also important to preserve the computer or a disk drive.
This will increase the chances of successful file recovery. And since you're here, you're in a good place and all you have to do is choose a tool that will fit your needs the most and give it a try.
Of course, we like to increase the awareness of data loss and the best way to prevent data loss is to backup your files regularly. We have an article full of tools that can help you keep your computer backed up on a regular basis even without requiring any action on your side – so we highly recommend you check it out.
Besides, you could eventually avoid data corruption by using antivirus software and scanning your PC regularly to prevent bugs and viruses.  Also please always protect your system with a strong password and set user permission for greater security.
* Readers like you help support TheSweetBits. When you buy something through the links in this article, we may get a small commission at no extra charge to you.