Top 5 Spotify to MP3 Converters for Windows and Mac
Utilities • Updated on Sept.15, 2022
Editor's note: This post was originally published in Sept. 2020 and has been since revamped in Sept. 2022 for freshness and comprehensiveness.
Spotify is no doubt the best music streaming service there is right now. You can find pretty much everything you want there for just about 10 bucks, so it's hard to go wrong with it. One of its biggest bummers, however, is that it restricts us from playing music through its app – which is where Spotify to MP3 converters come in!
There are quite a lot of working options out there. But, these are our top 6 ones. So, without any further ado, let us get right into it!
Tip: Are you looking for downing YouTube videos to MP3? We've also got a list of the best YouTube Downloader apps for Mac and Windows.
Important: understanding the legal issues involved
One of the most asked questions upon hearing about Spotify to MP3 converter is whether it is legal or not. It is a valid question, and you should be concerned about it. We are here to answer this question and satisfy your curiosity.
Spotify music works independently. You cannot burn it to a CD or play it on a different music application. Hence, you can convert it to MP3 and use it for personal use. According to our research, doing that is entirely legal.
However, if you plan to use the music for commercial use without Spotify's permission, that is illegal, and you can be penalized for that. We suggest you deviate from doing any such thing.
As long as you use Spotify for personal use and entertainment, you do not have to worry. You are not infringing their rights and not committing any illegal act.
Top 5 Spotify to MP3 converters
Sidify Pro – Best for Windows & Mac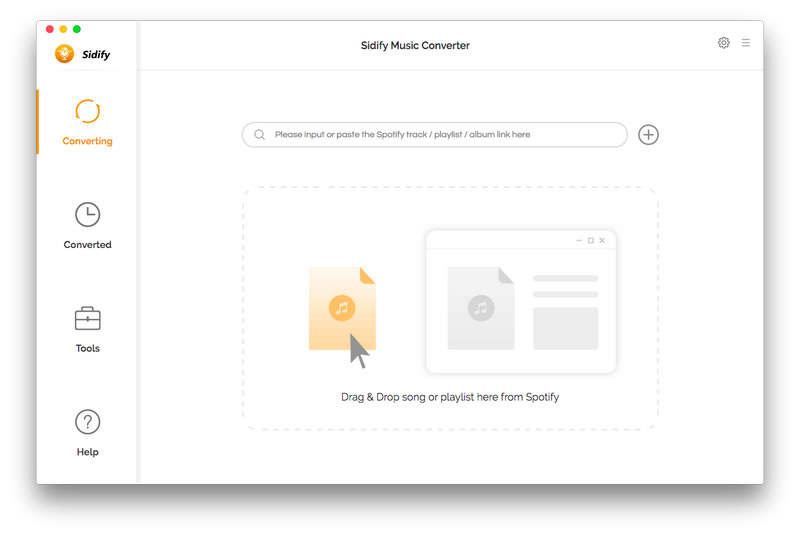 Why it's worthy: we recommend Sidify Pro because it is straightforward and simple to use. It gives you a lot of functionality to download and sort your music while having a budget-friendly price point.
The highlight of this application is that it has excellent clients for Windows and Mac OS. You can convert Spotify music to not just MP3 but other formats as well. CD burning, editing the tags, and uploading it to your Drive or the Cloud are also possible.
With Sidify Pro you can convert any playlists or soundtracks you want, no matter how long they are. However, if you restrict yourself to the free version you must make sure your soundtrack is less than three minutes. For that reason we recommend Sidify Pro and not the free version.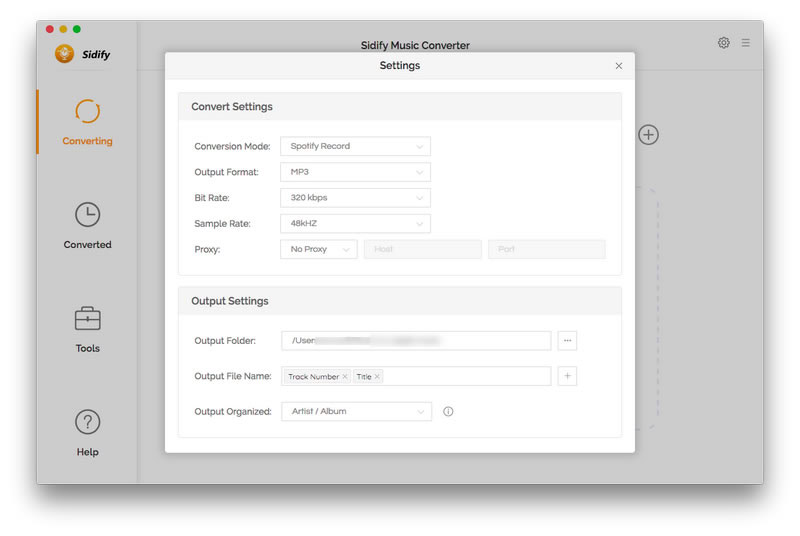 Sidify Pro offers three packages, monthly, yearly, and lifetime. The monthly package starts at $14, whereas the annual package starts at a whopping $49.55. The lifetime purchase will cost you $99, which we recommend if you are planning to buy any of these packages, as it is the most practical option worth your money.
Converting Spotify music to MP3 is a simple process using this application. Once the application converts the file to your chosen format, it will automatically download it to your device. After that, you can use that file to play with any music application you want.
If you want to convert an entire playlist in one go, the application also provides that option. However, remember the conversion can depend on how fast your device and internet connection are. At times it may even take up to an hour. Hence, we recommend converting five songs at a time.
Pros:
The application is free
You get different formats for conversion
You get three different packages
Intuitive desktop application
Cons:
Premium packages are costly
Audials Music – Best for audio recording
Why it's worthy: This is a little different from the first application. We recommend this because it can convert music to MP3 not just from Spotify but also from YouTube, YouTube Music, Amazon Music, Apple Music, Google Play Music, Dailymotion, etc.
It has an excellent feature where you can download music from any platform without any link. Since it has a built-in recording system, all you have to do is play the music on your device, and the application will record it. Hence, you can have your song on your device in whatever format you want.
The only disadvantage to using this is that it is a paid application. The free version only allows you to use it for a few days, after which you will be asked to make the purchase. However, your purchase will last a lifetime, costing you around 30 Euros. We think this is fair, considering everything you are getting in return.
To convert Spotify music, you can use two different methods: First, record the soundtrack, or second, drag and drop. The first option is straightforward. You must play the music on Spotify while the application is recording in the background. You can record entire playlists this way.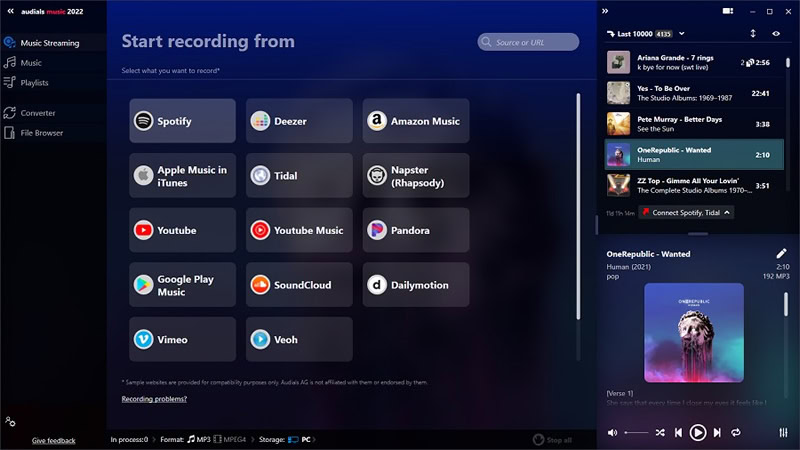 The next option is to drag the playlist or song from Spotify and drop them into the application. How long it takes to convert may depend on the number of songs and how fast your device can perform.
Pros:
You can download music from any platform
Converting music is very easy
Cons:
The free version is only available for a few days
The premium package costs more than $10
Allavsoft – Simple and efficient Spotify downloader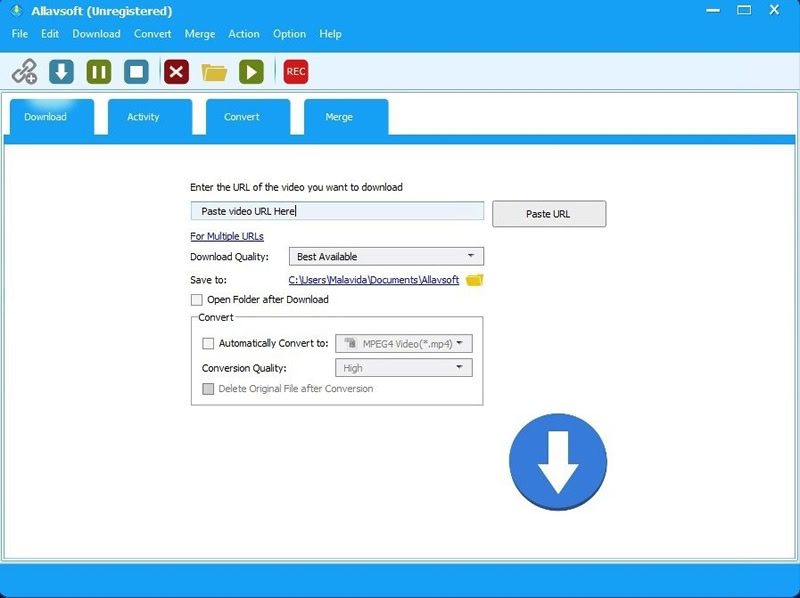 Why it's worthy: This allows you to download Spotify music in MP3, MP4, AVI, WMV, MOV, etc. Converting entire playlists using this application has been made very easy. You are only required to copy the "Link" of your music and "Paste" it on the application dashboard.
You can "Pause" your download mid-way if you like and "Resume" them whenever you want. You do not have to worry about viruses infesting your device either. Music downloaded from this application will be virus-free hundred percent.
Moreover, you get 24/7 support with this application; any problems you face can be solved quickly by contacting them. We found this to be very helpful in our tests.
Besides that, the application gives you the added feature of downloading videos from YouTube as well. This means you can download music albums of your favorite artists and enjoy them in your free time.
In terms of price, Allavsoft offers afree demo for those who want to test the application before committing to it. After that, you can choose from three different subscription plans.
The first plan is for a month, where you can connect two devices for $19.99. The second plan is for a year, where you can connect two devices for $29.99. The third plan is for a lifetime which you can purchase for $59.99. We recommend purchasing the one-year plan as it is the most practical.
Pros:
You can choose from three different subscription plans
You get 24/7 support
You can download videos from YouTube as well
You can "Pause" and "Resume" your conversion
Cons:
Subscription packages are pretty expensive
The free version does not have many features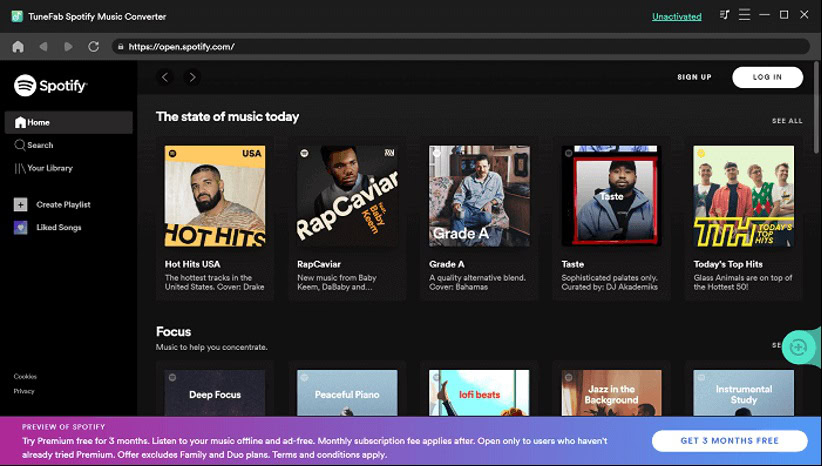 Why it's worthy: TuneFab is available for Windows and Mac OS users. You can quickly download the application from its official website and have it up and running in minutes. When you first open it, you will see a dashboard where you can:
Add music from Spotify
Change settings such as the format of conversion and area of download
See a history of all your downloads
This application allows you to change different settings of the music you have already downloaded or will download now. You can change its "Title ", "Artist", and "Album" according to your preference.
To add Spotify music to the application for download, you can either drag and drop the music files or copy and paste the URL code. Both of these options are easy to perform.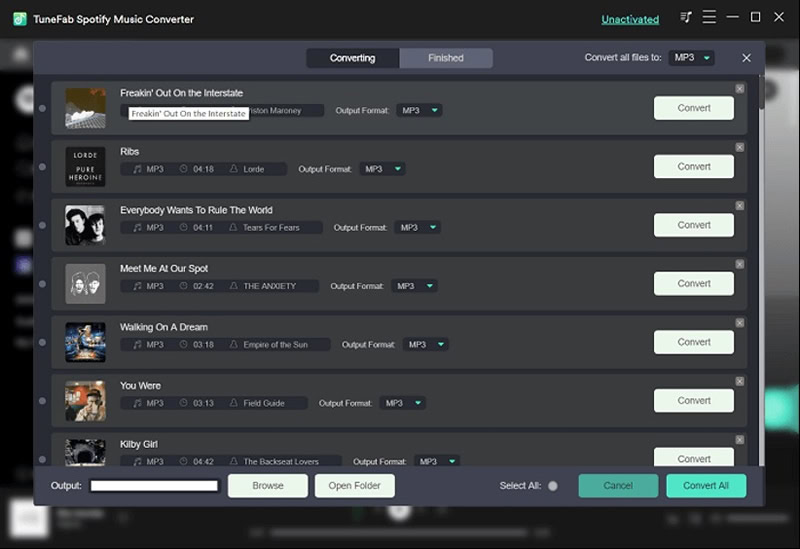 With the free trial version, you can convert as many songs as you want for thirty days as long as they are three minutes long; any song more than that will prompt you to upgrade to its premium version.
If you are considering upgrading, the Windows and Mac OS client will cost you a total of $14 for unlimited song conversion. This is cheaper than any other application.
Pros:
The subscription package is very cheap
You get a lot of features with the free version also
The conversion process can be monitored
Cons:
You can only add songs as long as three minutes with the free version
There is only a single subscription plan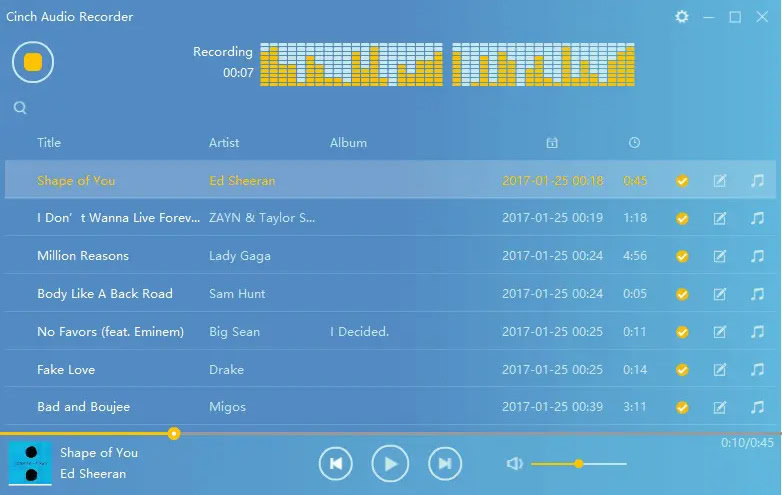 Why it's worthy: This supports a total of 500 different streaming sites. You can be confident this application will convert almost any music or video you throw at it. It is available for Windows, and you can quickly download it from its official website.
The application has built-in audio and video streamer. You can open it to feature any music album or video you want. Then, you can use its in-built record feature to record that album so that you can save it to your device.
All files recorded using this application will be saved on your device's hard drive so that it is easy for you to retrieve them whenever you like. You can make changes to your audio files as well. For example, having the option to crop it so that you can use it as a ringtone.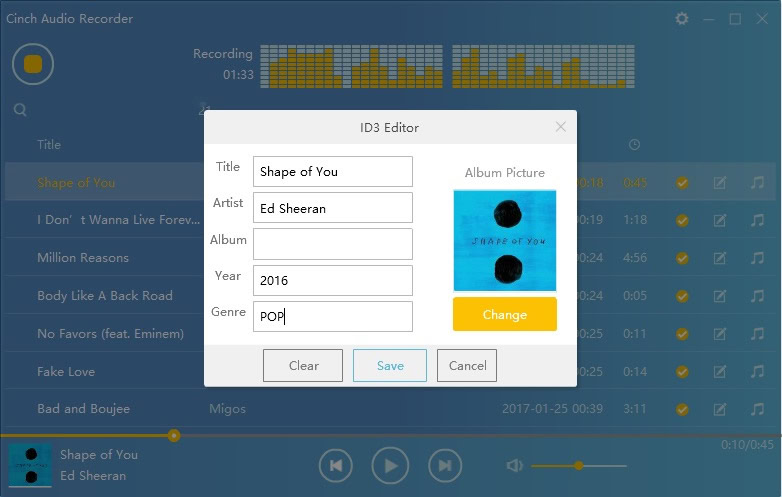 Moreover, you get the flexibility of editing the ID3 tag of your song. Simply go to the editing "icon" beside the ID3 tag and edit the settings according to your preference. You can change settings like "Title" and "Artist" from there.
Pros:
It is free
You can change ID3 settings
It has an in-built audio streamer
It has an in-built audio recorder
There are no ads
Cons:
No client version for Mac OS or Android
The trial version allows only 5 songs
It does not have many features
FAQs
Is it illegal to download music from Spotify?
No, it is not illegal to download music from Spotify, but the application does not allow that officially either. You can convert Spotify music into MP3 files and download it on any device you like, as long as it is intended for personal use. Moreover, replicating music from Spotify for commercial usage is illegal, depending on your regional laws.
Do Spotify to MP3 conversions for Chrome work?
Yes, you can quickly convert Spotify music to MP3 using a Chrome extension. All you need for this is an extension for Spotify to MP3 converter. You can find these extensions on the internet with a few clicks.
The applications mentioned in this article have Chrome extensions as well. We recommend you use them as they are tried and tested. We are sure they will work well for you if you decide to give them a chance.
Is it better to download or stream Spotify music?
While streaming music from Spotify is a go-to plan for most, it might not be suited when you're on the road or don't have an active internet connection. In such times, you'd have to rely on a tool to download Spotify music, and then listen to your favorite tracks offline.
Wrapping up
We have tested numerous applications to convert Spotify music to MP3. These 5 programs stand out as the best from the rest. They are efficient, functional, and very reliable.
We urge you to try them if you want to convert your Spotify playlist to MP3. We are sure they will not disappoint you and perform spectacularly well for you.
Lastly, please feel free to share this article with your friends, family, or anyone else you want. We would love to help as many people as we can.
See also:
* Readers like you help support TheSweetBits. When you buy something through the links in this article, we may get a small commission at no extra charge to you.